Are you thinking about proposing on the beach? Or how about arranging a wedding in Cancun? There is nothing like the breeze of the Caribbean Sea to feel that love is in the air. ❤ Read on and learn about romantic tourism in Cancun and Riviera Maya.
We love to know that the Caribbean, especially the Cancun and Riviera Maya areas, are the favorite places for lovers from all over the world to celebrate their love. And how not to name the Mexican Caribbean one of the most romantic places when, there you will find beautiful white sand beaches, blue sea, magical jungles, mystical cenotes, natural parks, fun beach clubs, and luxurious hotels, among many other places.
According to the Ministry of Tourism, more than 25 thousand tourist weddings are celebrated in Cancun every year. The attendees stay approximately 4 nights in the destination, which means that romance is a crucial niche for the tourism industry. So, if you are thinking of getting married, proposing, or spending your honeymoon in the Mexican Caribbean, we can almost assure you that you will live a well-planned and very careful experience on the part of the organizers.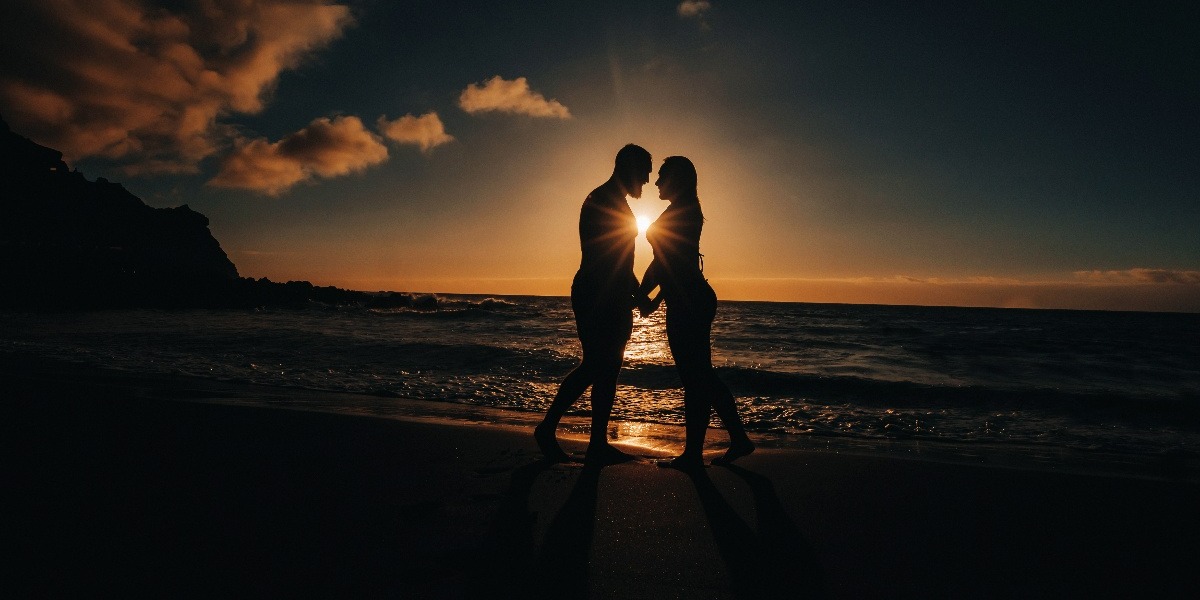 Here are the most searched topics about romance tourism in Cancun, Riviera Maya, and the surrounding areas. Below you will find our table of contents. Click on the topic of your choice to know all the details 👇
---
The Mexican Caribbean
We talk a lot about the Mexican Caribbean, so we have to take a little pause to identify the most iconic sites in this area of Mexico. The Mexican Caribbean encompasses the state of Quintana Roo and the southeast of the Yucatan Peninsula and is very famous for its beautiful beaches, jungle nature, and Mayan culture. It has gradually evolved from being just a sun and beach destination to an ecotourism, adventure, cultural, wellness, and gastronomic destination. The most popular spots in the Caribbean are Cancun, Riviera Maya, Isla Mujeres, Isla Contoy, Holbox, Cozumel and the Grand Costa Maya. These destinations offer something special for your wedding, proposal, or honeymoon.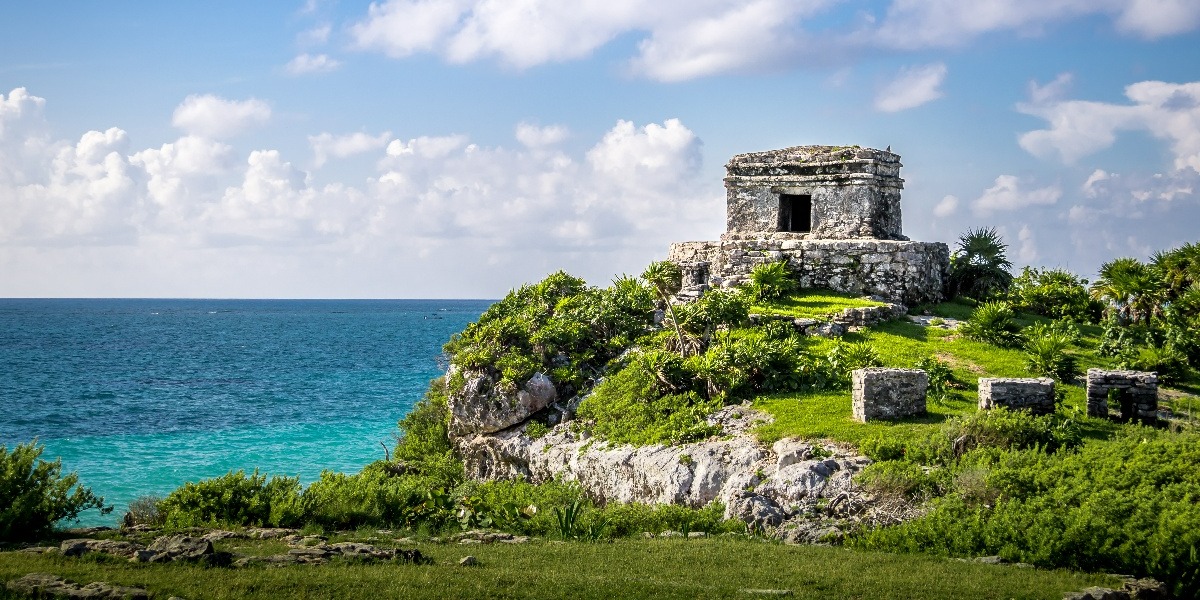 ---
Marriage proposal ideas in Cancun and Isla Mujeres 💍
The cliché we all love: Marriage proposal on the beach ️
We have seen it in movies, series, and on social networks. The proposal on the beach is the most frequent and, at the same time, the most romantic experience, and what better way to do it than on a beautiful beach in the Caribbean.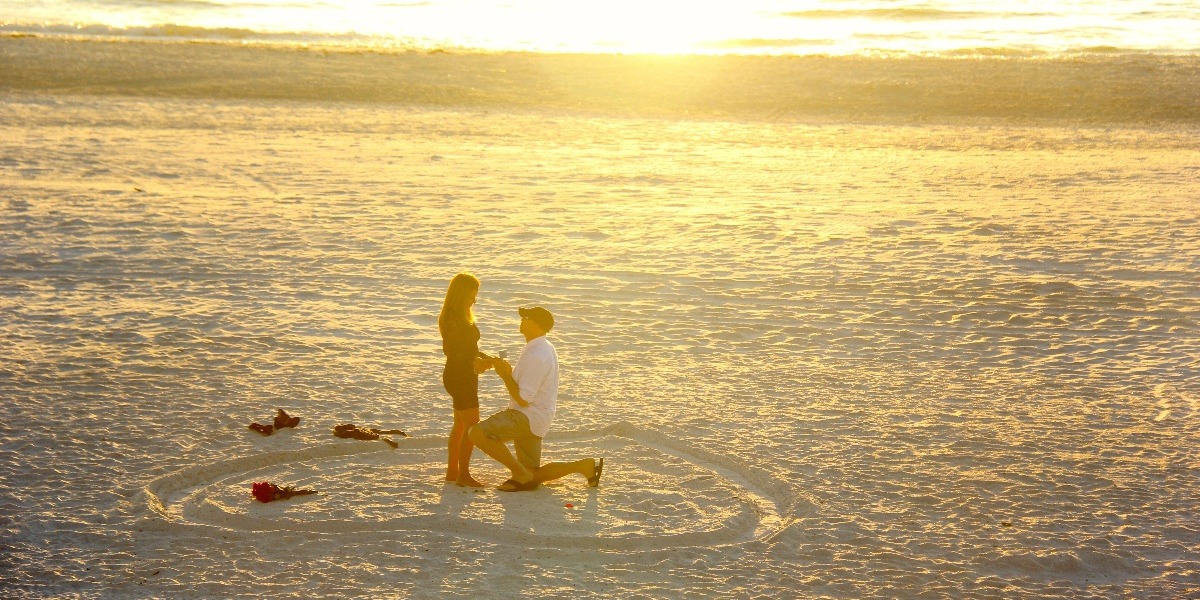 Many hotels in the Riviera Maya can help you organize a romantic evening so that everything goes as you wish. But if you want to do it independently, these are our top-choice beaches in Cancun and Isla Mujeres, and Quintana Roo to propose marriage:
Playa Norte, Isla Mujeres:

It is on Travellers Choice's list of the 25 best beaches in the world, and its sunsets are the most romantic in the Caribbean (and probably in the country).

Playa Punta Cocos, Holbox:

This beach located on the island of Holbox has great natural beauty. By day, you will see all kinds of birds (even pink flamingos), and at night you can admire the natural phenomenon of bioluminescence (from April to November).

Playa Delfines, Cancún:

It is also known as "El Mirador". It is a big beach that gives you the chance of having a private space for yourself and your partner. In addition, there you will find the famous CANCUN letters where you can take excellent souvenir photos.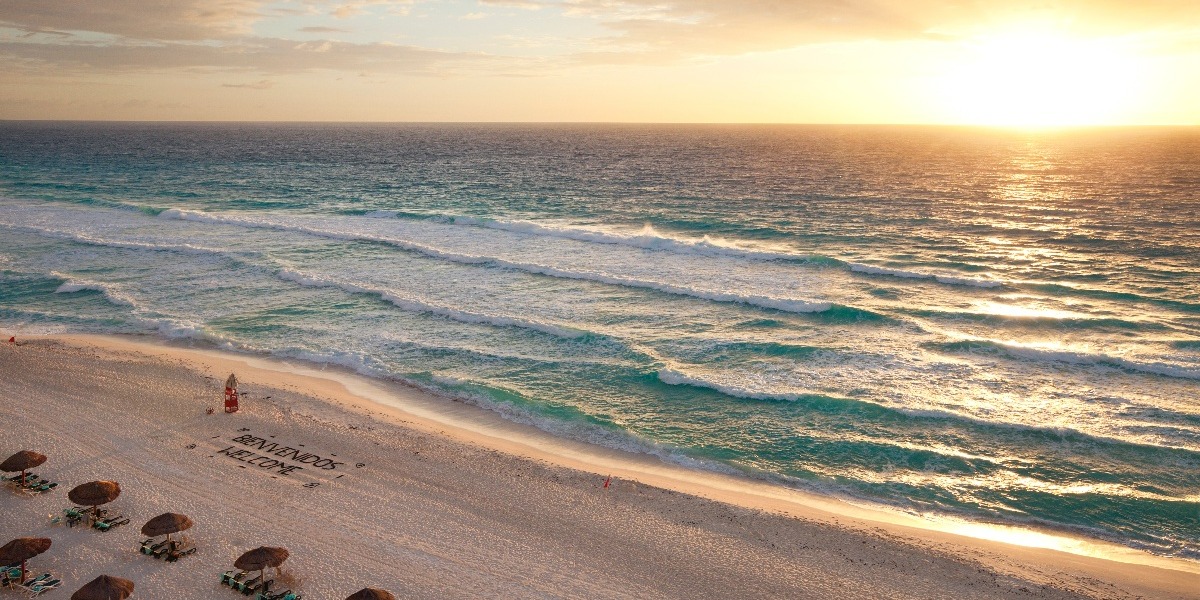 Delfines Beach in Cancun's Hotel Zone
Marriage proposal at sea ⛵
Since the number one attraction of the Caribbean is its turquoise sea, some creative couples have decided to use this element to declare their love. Here are some ideas to propose marriage in the Caribbean.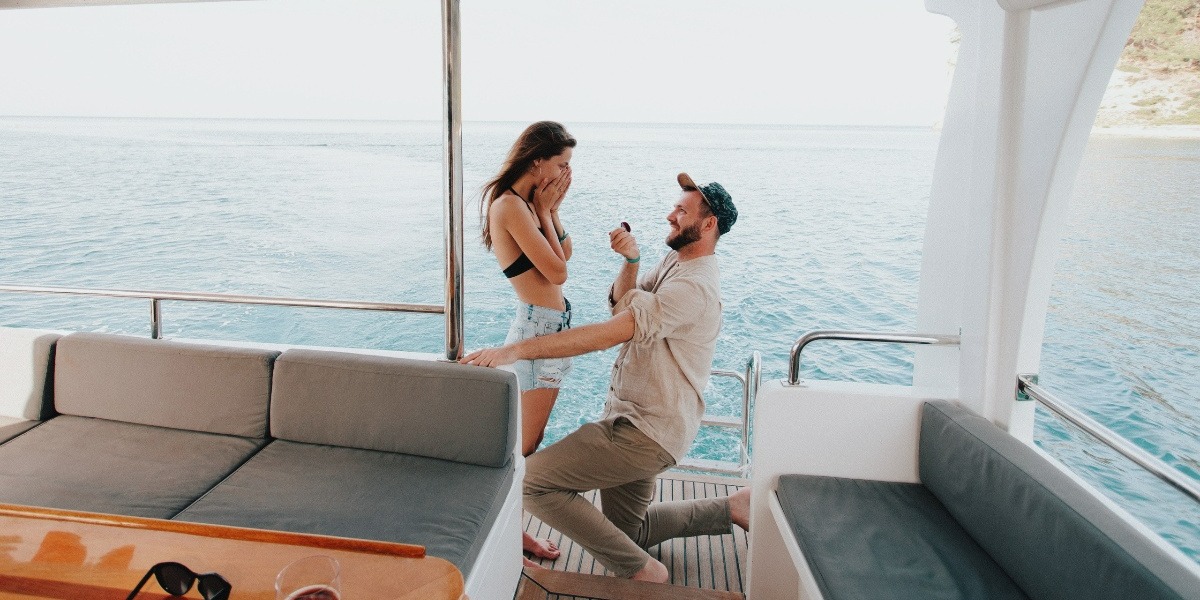 Marriage proposal on a yacht or catamaran:
It is becoming more and more popular to rent a boat to live a unique experience in a more private environment. Here we explain how to rent a boat to propose marriage.
Underwater...marriage proposal?
You read that right. In tropical areas, many couples who love the sea have ventured to get engaged while snorkeling or scuba diving! In Cancun and the Riviera Maya, different diving companies help you fulfill your dream of asking for your partner's hand underwater.
If the sea is not your thing... How about the jungle? 🌴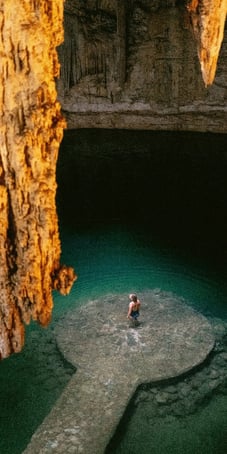 The jungle surrounding the Caribbean area is famous for its link to Mayan culture, energy, and fascinating geography. Here are some ideas that may inspire you:
Proposal in a cenote:

Cenotes are impressive subway formations and one of the most iconic natural attractions of the Yucatan Peninsula. A cenote evokes unique energy that fills you with the life to receive that "I do" you desire.

Romantic jungle tour:

If you love nature, you should consider proposing in the jungle. It sounds a bit daring, but it is something common in the Caribbean area. You can ask your travel agency for eco-hotels or alternative vibe bungalows to help you fulfill that romantic moment.
---
Where to get married in Cancun and Isla Mujeres👰
We already knew some ideas to propose marriage, some very classic and romantic, others a little more daring, but fun. So now, we will introduce you to the most iconic places to have your wedding in the Mexican Caribbean.
Hotel wedding in Cancun
Nothing screams Caribbean weddings more than the classic floral arch in the sand overlooking the sea. This is, in most cases, the signature of weddings organized by hotels. Cancun and Riviera Maya hotels have professional wedding planners. Many travel agencies sell wedding packages that include flights, hotel stay for several days, organization of the event, and even additional activities. These packages usually give the hotel room to the bride and groom if they meet a minimum number of guests.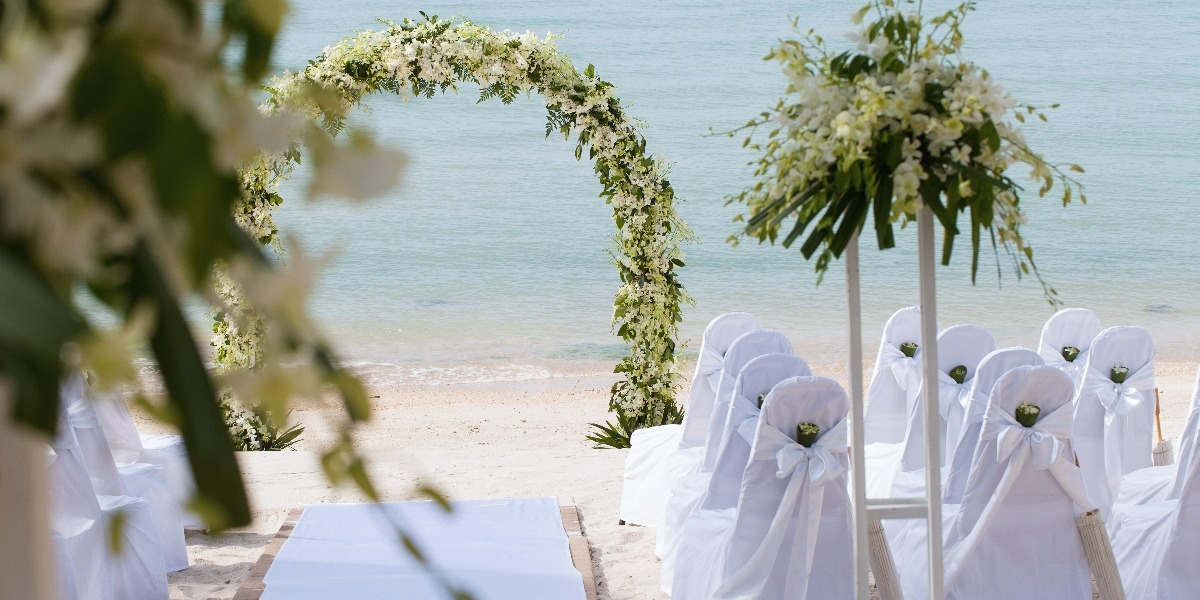 Wedding at a Beach Club
Beach Club weddings are express events that offer more freedom without taking you away from the beach. Some beach clubs may limit access to wedding guests only and include food and beverage service, space for a beach reception, lighting, and sound. This option is ideal for a small committee celebration in a Caribbean setting. Clubs such as IXI Beach on Isla Mujeres offer their facilities for weddings, anniversaries, and any kind of private event, in front of Playa Norte, the most beautiful beach on Isla Mujeres.
Wedding on a boat in Cancun
Yes, you can get married aboard a boat. Organizing a wedding on a yacht in Cancun is easier than you think. Besides a yacht, you can book a catamaran to celebrate your wedding. In both cases, the organizing staff will help you make your most special day an unforgettable experience.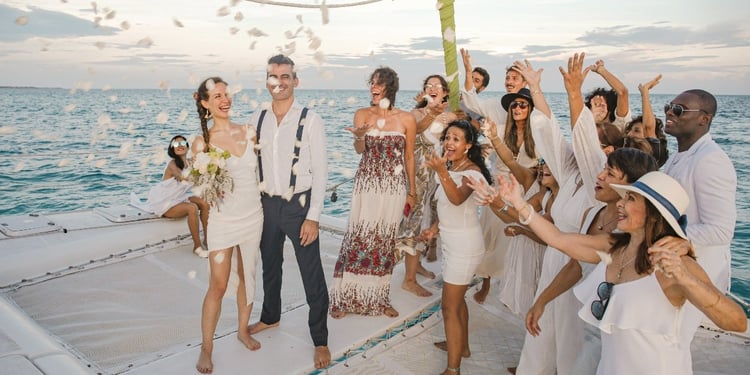 Mayan Weddings in Cancun
Mayan weddings are a popular type of symbolic wedding in the Mexican Caribbean. The Mayan wedding ritual reinforces the spiritual union of the bride and groom through the four elements. The ceremony begins with purification in a temazcal then the shaman (priest) performs the wedding. You will find this option in almost all the catalogs of wedding planning agencies and wedding planning committees of hotels in the Yucatan Peninsula.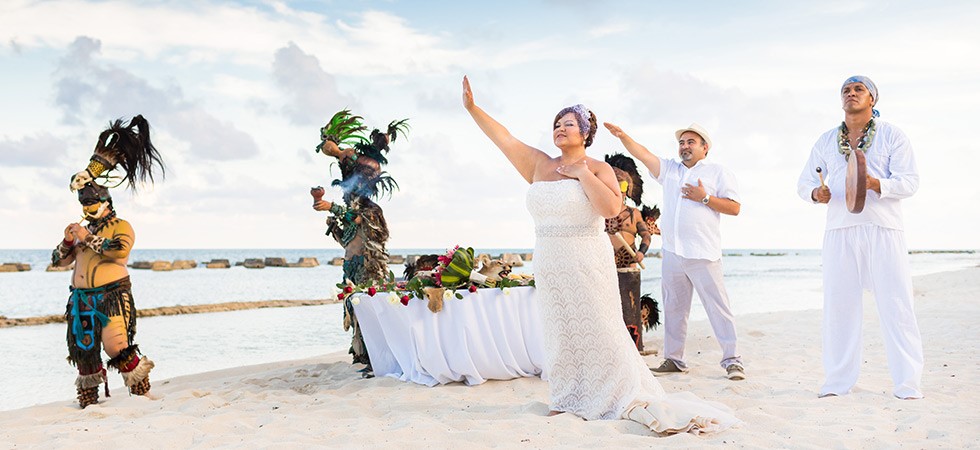 Mayan wedding organized by Weddings Lomas Travel
Other types of symbolic celebrations include LGBTQ+ weddings, themed weddings and civil weddings.
Golf CAMP weddings in Cancun and Riviera Maya
If you love the color green and formality, a golf course wedding may be the option you're looking for. These venues have large spaces that scream luxury and freedom. There are places like Cancun Country Club, located just past the airport, where you can rent for your wedding. It includes access to the beautiful gardens, banquet service, and professional staff.
---
new trends in weddings and romance 📈
Trash the Dress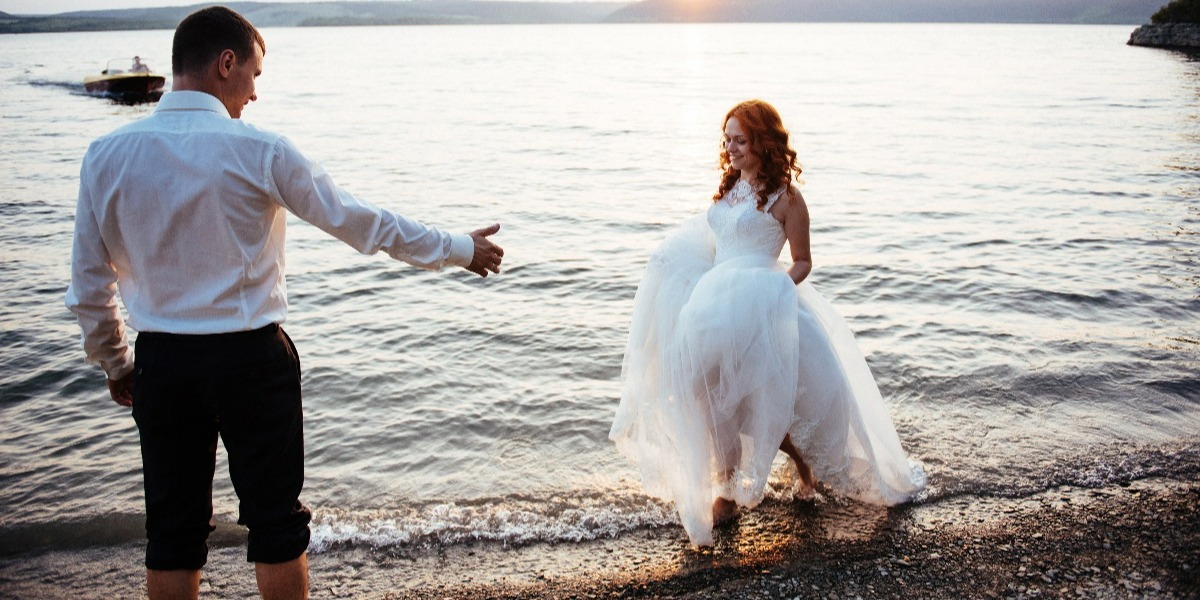 This trend refers to destroying your wedding dress after the wedding. Usually, it involves a photoshoot where the bride and groom go into the water or natural environments that could get the bride's dress dirty.
The most popular places to carry out the Trash the Dress trend in the Yucatan Peninsula are:
Cenotes in Mexico:

The photo sessions in cenotes end with magical photographs full of mysticism.

Beaches in the Caribbean:

Underwater photos are a favorite among brides and grooms because of their accessibility and proximity to the hotels.

Mayan Ruins:

The vestiges of Mayan cities are a favorite setting for history lovers.

Islands or jungles:

Photographs among the trees and tropical landscapes are a great idea to take home magnificent memories of your wedding.
Babymoon in Cancún
Babymoon is the new trend for couples to take one last romantic trip before the arrival of their baby. At first, the term meant a vacation getaway with the baby, but it has gradually changed and now focuses on the parents and the celebration that the pregnancy stage will soon be over.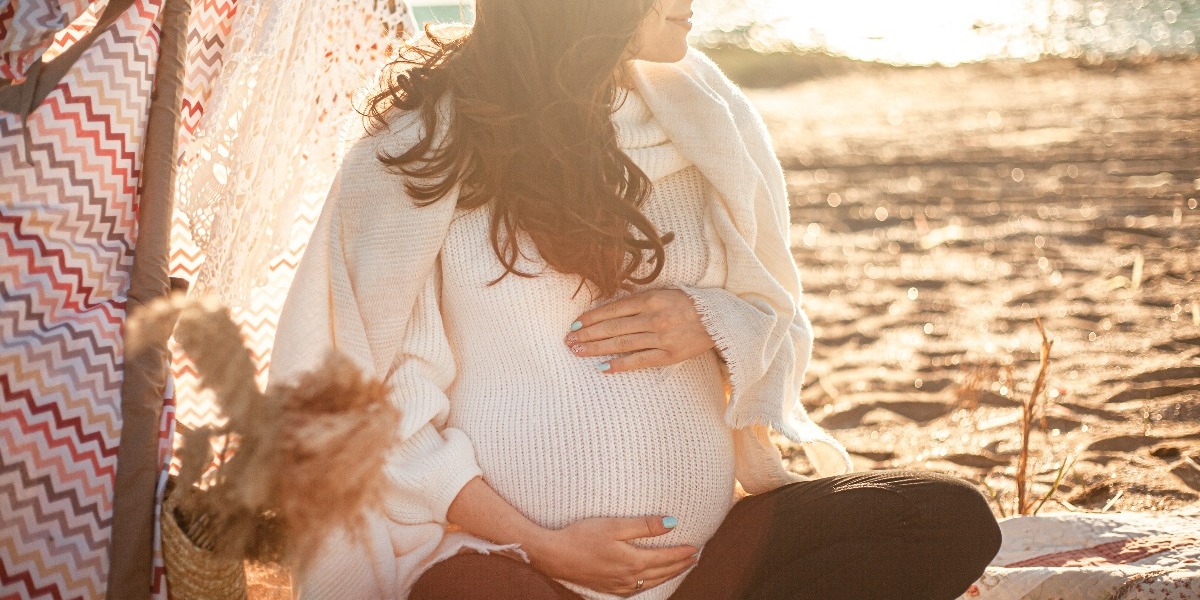 Couples' favorite Babymoon locations tend to be comfortable all-inclusive hotels with relaxing or low-impact attractions for both parents to have a great time.
When planning the Babymoon, the pregnant mom should consider the following:
For the safety of the mother and the baby, if your pregnancy is risky, avoid traveling and follow your doctor's instructions.
For convenience, look for destinations with few hours of travel time and no stopovers.
Include relaxing and/or low-impact activities into your itinerary, such as city tours, massage packages, romantic dinners, swimming in safe areas, or shopping for the baby.
Use your free time to talk with your partner, dialogue, and share feelings and experiences about the baby.
After the 32nd week of pregnancy, you will need a medical certificate to travel by plane.
👀And remember that you can also travel with friends who are already mothers and parents to learn from them (and with those who are not to share the experience, of course).


---
And that's how we end this guide of ideas for proposals and weddings in Cancun. If you have any questions, suggestions, or want to share your experience with us, leave a comment 👇 or share with us on our social media accounts.