Since our foundation, in Cancun Sailing we have recognized the importance of the marine ecosystem and we are highly aware of the problems that affect it. Promoting the protection of nature and the sustainable management of resources has been a commitment that we work day by day and that has added us to the group of national and international companies that work towards the same objective.
BLUE FLAG AWARD 2020
This year, we are very proud to be not only the first boat company in LATAM that has been awarded a Blue Flag certification but also to become first place worldwide with the largest number of Blue Flag certified ships, with a total of 25.
But, you may be wondering: what is Blue Flag?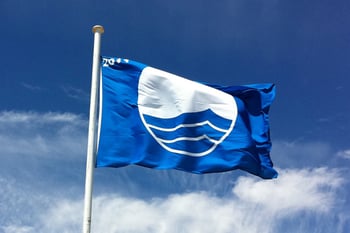 Blue Flag is an internationally recognized award given to beaches, marinas, and boat operators, which not only meet the highest quality standards but also offer and promote environmental education activities that help achieve the program's purpose: to establish a connection between the public and their environment.
"A Blue Flag site promotes awareness for the environment, generating agents of positive change."
Among the criteria to be met and maintained by the candidates for the award, are:
Seeing environmental education as an integral part of tourism products.

Evaluating and making an effort to reduce negative impacts on the economic, social, and natural environment.

Considering the needs of tourists, their employees, and the environment.

Contributing to the development and distribution of sustainable practices.




CANCUN: FIRST DESTINATION TO RAISE BLUE FLAGS AFTER COVID-19
Additionally, the Benito Juarez City Council announced on June 13 of this year that Cancun has achieved the first national place in Blue Flag sites with 35 flags (10 beaches and 25 Cancun Sailing boats) and is now the first destination to hoist again the flags after the stoppage of activities by COVID-19.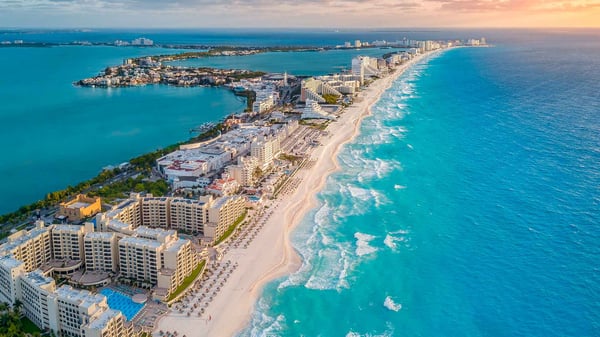 Among the beaches that were awarded with this badge are:
Ballenas

Coral

Chac-Mool

Delfines

Playa El Niño

Marlín

Las Perlas

Fiesta Americana Condesa Cancún

Iberostar Cancún

Live Aqua Cancún
So if you are thinking about going to the beach once they open, you cannot miss visiting at least one on the list!
SANITARY MEASURES AGAINST COVID-19 IN CANCUN SAILING
Regarding our excursions, in addition to reducing the capacity of the boats by 50%, we will be carrying out actions to guarantee health and hygiene at all our meeting points: from transportation, check-in, activities on board the catamarans, all the way to the beach clubs and restaurants.
» To learn about ALL the protocols, click here «
Now you can be sure that in Cancun we are ready to welcome you in the warmest way and comply with the necessary protocols to guarantee your tranquility and maximum fun on your next vacation to paradise.
We will be waiting for you!
SOURCES: