Isla Mujeres is the kind of paradise that you can't afford to miss on your vacation to the Mexican Caribbean. If you're planning on going and have doubts about whether or not you should rent a cart, we advise you to do so.
As soon as you get off the boat, you can find plenty of restaurants, shops, hotels and the best beaches for swimming at a walking distance; so technically a golf cart is not really "needed". However, every spot of this beautiful island is worth visiting. Whether you go on a short trip and want to make the most out of your time or simply want to move around comfortably, we have no doubt that touring the island by golf cart will be your best option. It is a must experience.
Where to rent
Finding rental options is not a difficult talk, since upon arriving to the island you can find numerous places and people offering their services. The real problem is deciding which one to choose, and if you're one of those people who like to plan each detail of their vacation or simply want to find the best option that fits your needs, then this article is for you.
Below, we mention three options, general information and the requirements you need to rent a cart. Additionally, we prepared a mini guide comparing rates and details so that you can choose easily.
Rentadora Joaquin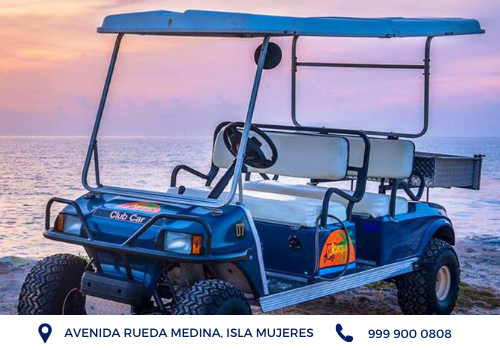 Indios Golf Carts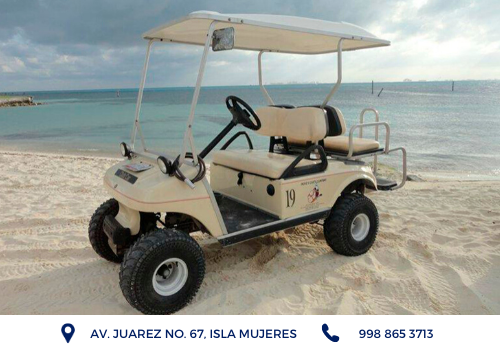 Prisma Golf Carts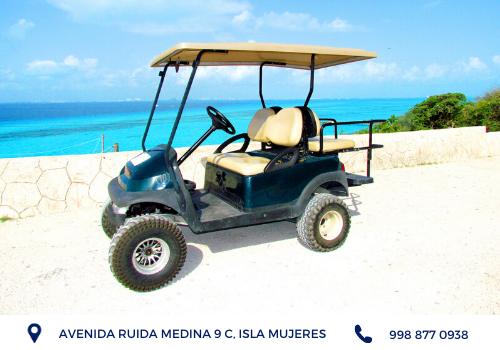 Comparison Chart Golf Car
Isla Mujeres Golf Car Rental Price List

Rental Business

1 hr

2 hrs

24 hrs

Weekly rentals?

Scooter rentals?

XL golf carts?

Rentadora Joaquin

✖️

$525 mxn

$1050 mxn

✔️

✔️

✔️

Indios Golf Carts

$300 mxn

$600 mxn

$1300 mxn

✖️

✔️

✔️

Prisma Golf Carts

$17 usd

$32 usd

$50 usd

✔️

✖️

✔️
Important information:
A valid driver's license is required.
All golf carts, both regular and XL, have a capacity for up to 4 people.
The rent already includes fuel.
Most rental places allow charge overtime after 15 minutes.

What to do in Isla Mujeres for 2 hours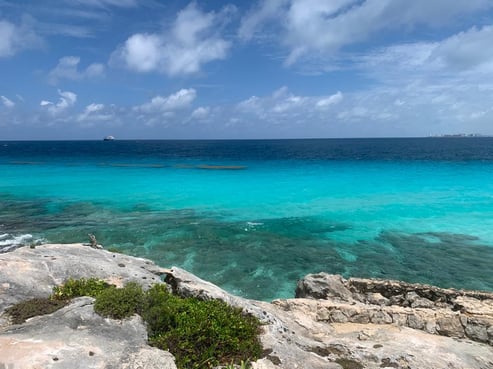 If you're taking a tour to Isla Mujeres then most likely you have some free time in the island. If you're looking for options to do in such a short time, we recommend you visit Punta Sur, where you can find the most spectacular view in the island and the perfect spot to take your vacation photos. To enter, you must pay a fee of 30 pesos or 1 american dollar.
A fun fact about Punta Sur, is that it's the first place where the sun's rays come out in Mexico, so from there you can admire the most beautiful sunrises.
We hope that this article helps you plan better and decide which option is best for you. But most importantly, don't forget to take lots of photos and enjoy your visit to Isla Mujeres to the fullest.
We invite you to subscribe to our blog so that you can receive more tips and suggestions for your next trip!