Despite the situation in 2020, this year we have learned to value many everyday things we had taken for granted. Above all, last year helped us to rediscover ourselves, to appreciate our time and to value every moment in life. That is why this year 2021, knowing that the quarantine has been long, we want to recommend you to enjoy the beautiful landscapes and towns that Mexico offers you.
2021 vacations to "Pueblos Magicos" in Mexico
Mazamitla, Real de catorce, San Cristóbal de las Casas, Sisal and Isla Mujeres are some of the many fascinating places in our country that we are sure you will love.

As a curious fact, the "Magical Towns" or "Pueblos Magicos" (as we call it oficially) program was started to protect and preserve the cultural and natural wealth of the localities. We invite you to read and learn more about these charming places so that you can decide for yourself which one to visit in 2021.
1. MAZAMITLA, JALISCO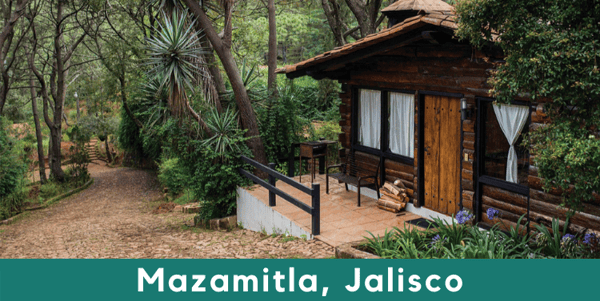 This place is two hours from Guadalajara Jalisco, one of the 8 magical towns of this incredible state. The perfect place to travel as a couple and enjoy the best vacations.
what do you need to visit in mazamitla?
Visit the Cascada de Salto
It is approximately 35 meters high and is a natural place full of a beautiful landscape. So, venture to know the Cascada del Salto this year.
Cascada de Salto entrance cost
Adults: $25 MXN

Children: $15 MXN

By car: $30 MXN per person
Mundo de Aventura Eco Park
It is approximately 13 km from Mazamitla. In this place you can do various activities such as zip lining, horseback riding, ATVs, among others. The cost of entry to Mundo Aventura is $ 10 MXN.
Plaza Municipal José Parres Arias
Visit the main square of Mazamitla, walk along the main avenue and wander the streets while shopping for souvenirs and local products of Mazamitla.
where to eat in mazamitla?
You can eat in one of the restaurants near the center. There are two markets: the artisan market and the municipal market.
how much do you spend in mazamitla?
The trip from Guadalajara to Mazamitla is $ 170 MXN. If you're looking to rent a cabin the cost is $120 MXN per person, so in this case the accommodation is cheap. You cannot leave without trying the famous Vampirito that has a cost of approximately $ 55 MXN. Eating in Mazamitla is very affordable and you can eat a nice and delicious meal spending $130 MXN per person.
2.

Real de Catorce

, San Luis PotosI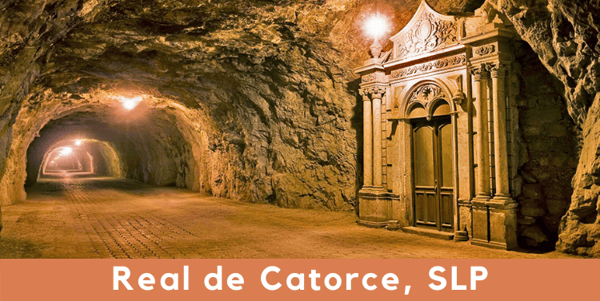 It is the magical town of San Luis Potosí, a place full of antiquity, culture and spectacular landscapes. Real de Catorce is a mining town founded in the middle of the mountains, which has become a tourist place visited by many people from all over the world. That is why to get to Real de Catorce, you will pass through the Ogarrio Tunnel, which has a parking place so that you don't worry abour traveling by car.
what to do in real de catorce?
Ride a horse and stroll thorugh Cerro del quemado
A place with an incredible view. It is about an hour on horseback and on the way you can meet Huichols on the way. The Huichols go to the Cerro del Quedo to perform their ceremonies where they perform their cleanings and eat the so-called peyote in their rituals.

You may ask yourself, what is peyote? These are plants of arid places where water is scarce and the rains are widely spaced. Most of the types of cactus cultivated come from the region of Mexico, Peru, Chile and Brazil.
Ride a Willis and take a tour the unforgettable Cuesta de los Arrepentidos
A tour that will make you admire the mountains and nature of the place. Being in the Willys will make you feel alive and full of energy.
Visit la Mina del Socavón
La Mina del Socavón is an old mine where silver was extracted in the 70's. Learn about its history and its legends, you will be impressed!
Visit la estación de 14
The 14 station is located in a small town formed from the arrival of the railway in 1888; a place where you can take photos and walk on the railroad tracks while the people of the community tell you their story.
what to eat in real de catorce?
You cannot leave Real de Catorce without eating some tasty gorditas and tasting a warm artisan coffee, a delicious and inexpensive meal. You can also have the option of trying a tasty menudo.
Gorditas: $15 MXN

Artisan coffee: $20 MXN

Menudo: $90 MXN




3. SAN CRISTOBAL DE LAS CASAS, CHIAPAS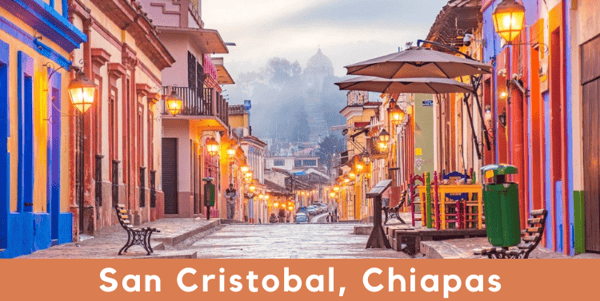 A quiet and charming place that you cannot miss in 2021. San Cristóbal de las Casas is the colonial town that attracts millions of tourists from around the world. A place full of colors, majestic landscapes and culture that will make you want to return to this place again and again. There is no doubt that this destination is full of magic, atmosphere and hospitality for those who visit it.
what to visit in san cristobal de las casas?
Chiflon Velo de Novia waterfall
One of the most impressive waterfalls in Chiapas is the Cascada Velo de Novia. This waterfall is the product of the current of the San Vicente River. You will hear the noise of the waterfalls with more than 80 meters high. The area is an eco-tourist place so while you enjoy the landscapes that nature offers you, do not forget to take care of the place and avoid littering to continue conserving these wonderful places for more years. Don't forget to take photos in this paradise in Chiapas.
Entrance cost: $40 MXN per person
Iglesia de Guadalupe
It was built on the Cerro de Guadalupe in 1834. To get to the church you first have to ascend 79 steps and you will be able to appreciate the beautiful chapel. The view from above is something incredible; in the chapel there is an image sculpted in 1850.
Palenque, Chiapas
An impressive archaeological zone. Palenque has natural wonders to offer to everyone who visits it.

Palenque has the Agua Azul Waterfall, a place with very calm waters that live up to its name. The landscape is incomparable and here you can take a dip to cool off.
Highway toll: $20 MXN

Entrance to Agua Azul: $40 MXN




Visit NA BOLOM
This is a place dedicated to the Mayan culture, you will learn about its history and about its ancient traditions.
Cañon del Sumidero
"El cañon del sumidero" is located in Chiapa de Corzo. Its walls reach more than 1000 meters high and will definitely surprise you. This place is considered one of the most visited places in the state for its beautiful view. In summary, it is an icon of the state.
where to stay in san cristobal de las casas?
Hostalito 14
This place has private rooms and shared rooms, so it's up to you when you book. A very clean, warm and quiet place to stay and enjoy your vacation.
Average cost for 1-2 people: $300 MXN
Average cost for 3 people: $450 MXN
Casa Lum
Casa Lum has 8 rooms and a restaurant centrally located in the city. You can enjoy its exquisite food while enjoying the beautiful view that Casa Lum offers you. Stay in a comfortable and relaxing place.
Basic room starting at $3,250 MXN per night
Casa Santa Lucia
Spend a warm night by the light of the fireplace when you stay at Casa Santa Lucia, in San Cristóbal de las Casas.
Rooms starting at $1,260 MXN per night




¿Dónde Comer en San Cristóbal?
Carajillo Cafe coffee shop
It is a small coffee place where you can delight your palate with the delicious typical Chiapas coffees. Don't forget to try the variety of flavors; you will be impressed. This place also offers different options for breakfast and lunch.
Carajillo Cafe coffee shop costs:
American coffee $35MXN

Artisan coffee $45MXN

Turkish coffee $45MXN

Chilaquiles $90 MXN



4. SISAL, YUCATAN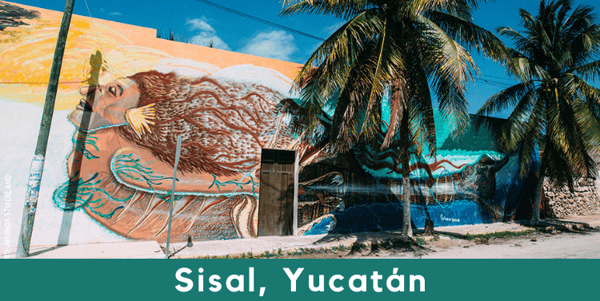 It is a town located about an hour from Merida, Yucatan where you will enjoy the wonderful beach and its enchanting view; a quiet place to relax and enjoy a family day.
what to do in sisal, yucatan?
Visit Mirador Charcas de Sisal
A place where you can connect with nature and live a moment of calm while you enjoy listening to the sound of the sea. You will be able to witness birds, reptiles and different animals that this natural place offers us.
Take a tour to the coral reefs and the water hole
Locals offer 5-6 hour boat tours that include snorkeling or diving. At the first stop, you are taken to see a sunken ship that has become a reef, surrounded by various species. In the water hole you can observe beautiful flamingos and other birds, as well as iguanas. Finally, it is common to eat fresh ceviche. A perfect day in Sisal!
what to eat in sisal?
As any good port, you can find a variety of small restaurants whose specialty is seafood, characteristic for its excellent seasoning and good prices. Among the most famous are La palapa de Soco, La palapa de Zurdo and Muelle de Sisal. The average cost per person is between $ 250 and $ 350 MXN per person.
5. ISLA MUJERES,

Quintana Roo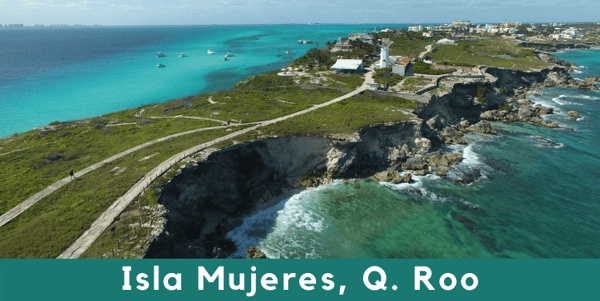 Finally, there is Isla Mujeres, a paradise in the Mexican Caribbean. Personally it is our favorite and we can say that we are experts in this tourist destination, which we visit every day on our catamaran tours.
For this reason, we have a whole section dedicated to this gem of a place, where you will find information about the history of the island, restaurants to eat like a local, all the activities to do, some of the coolest places to stay, how to move the island, and even fun facts!

Visit our Isla Mujeres Guide and get ready to know all the essential tips to enjoy your experience to the fullest.