There are thousands of reasons to come to the Mexican Caribbean and Isla Mujeres is no exception. With dreamy beaches, colorful streets, great history and one of the largest reef walls in the world, we understand why you would want to spend some days enjoying this 4.2 km2 of heaven.
Even though it's a small island with fewer lodging options compared to other nearby destinations, deciding where to stay might not be such an easy choice. Many hotels in the area have been around for quite some years and therefore haven't updated their furnishing or website photos. Send your worries away as we prepared a list of five of the best places to stay (based on amenities, location, aesthetics and of course, reviews).
We know however, that not everyone travels the same way. For this reason, we chose different options that cater best to a specific type of traveler.
Next, in no particular order, these are our top 5 places to stay at if you visit Isla Mujeres:
1. SELINA POC NA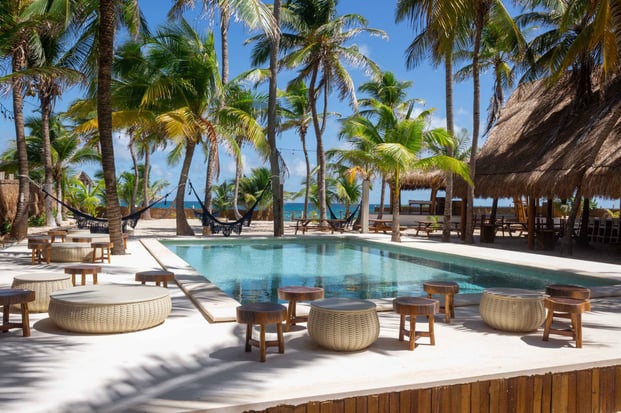 Great for: Solo travelers
This hostel was previously Poc Na, which was the first hostel in Latin America. Selina has locations in around 60 places around the world and is famous for organizing local activities, hosting great parties and providing shared workspaces. If you're traveling on your own, this is the perfect spot to meet fellow travelers. The only downside to this place is that you are not able to swim on this side of the ocean, but you can walk a couple streets down to some of the best beaches in Playa Norte to take a dip.
2. HOTEL BELÓ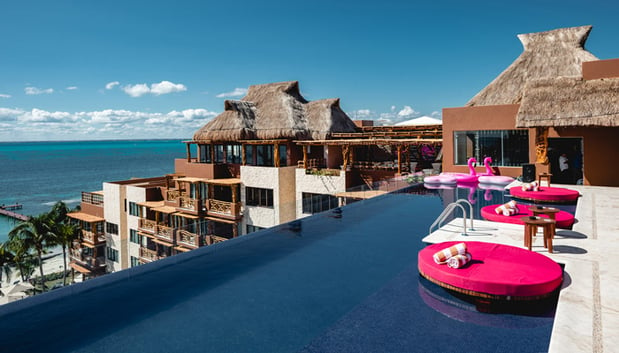 Great for: Group getaways
Hotel Beló is quite new, but it has now become one of the most popular hotels in Isla Mujeres. It offers 70 modern decorated rooms, 2 restaurants, a giant pool and hot tubs, but its best amenity is definitely their rooftop beach club, Top by Belo, where you can relax on a bali bed close to the pool and get amazed by the views of the sunset. This hotel is located right next door to Ice Bar Isla Mujeres and 6 min walking distance from some interesting touristy spots like the Tortugranja, a turtle aquarium.
3. MIA REEF HOTEL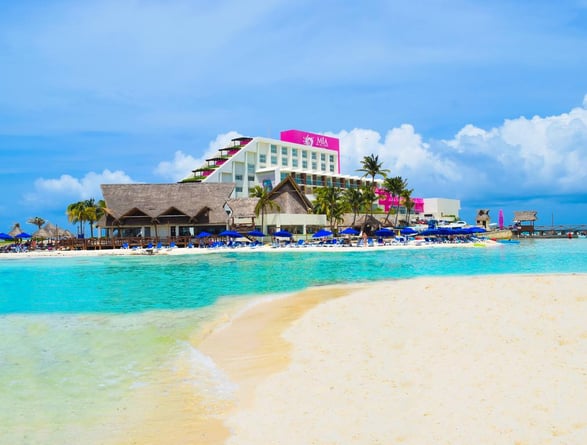 Great for: Families
It's located in Playa Norte, the best beach in Isla Mujeres. The shallow waters are perfect for kids, while adults may relax in their spa. This 5-star hotel is all-inclusive and features 4 restaurants, snack bars and a coffee shop.
4. NOMADS HOTEL HOSTEL BEACHCLUB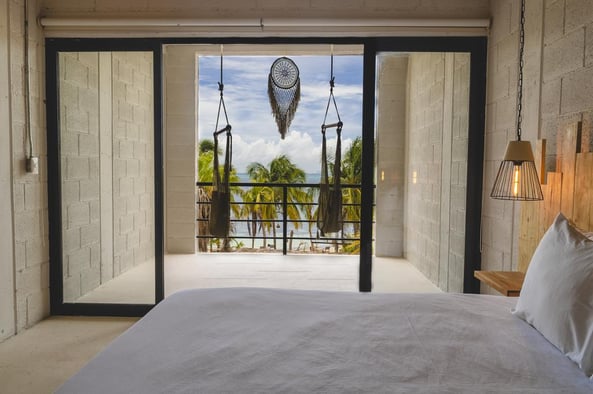 Great for: Solo travelers or couples
With a very similar concept to Selina, Nomads combines both the experience of lodging and mingling. Nomads is famous for hosting fun events such as latin and karaoke nights. On top of that, it has a modern organic style that create the perfect ambience for relaxing and taking Instagram-worthy pictures.
5. PRIVILEGE ALUXES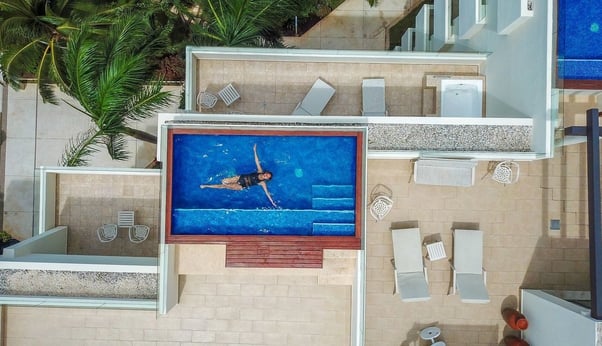 Great for: Couples
If you're traveling on a special occasion or simply would like to enjoy a getaway with your loved one, this is the place for you. Privilege Aluxes is an adults only all-inclusive resort, which means you won't have to worry about spending extra or finding a quiet place. Our recommendation is to get the room with private terrace and pool, to enjoy an exclusive and romantic stay with views to die for.
Now, while Selina and Mia Reef are walking distance from the center and ferry, it's always best to opt to rent a golf cart to move around and throughly live the Isla Mujeres experience.
Want to know where and how much? Read our blog and check out the comparative chart depending if you want to rent it by hour or by day.
» How much does it rent to golf cart in Isla Mujeres «
We hope this article has been helpful to help you plan for your next vacation, and if you have stayed in one of these spots, tell us what you thought!