A unique and spectacular destiny surrounded by the turquoise waters of the Mexican Caribbean Sea where you will enjoy a magical and unforgettable experience.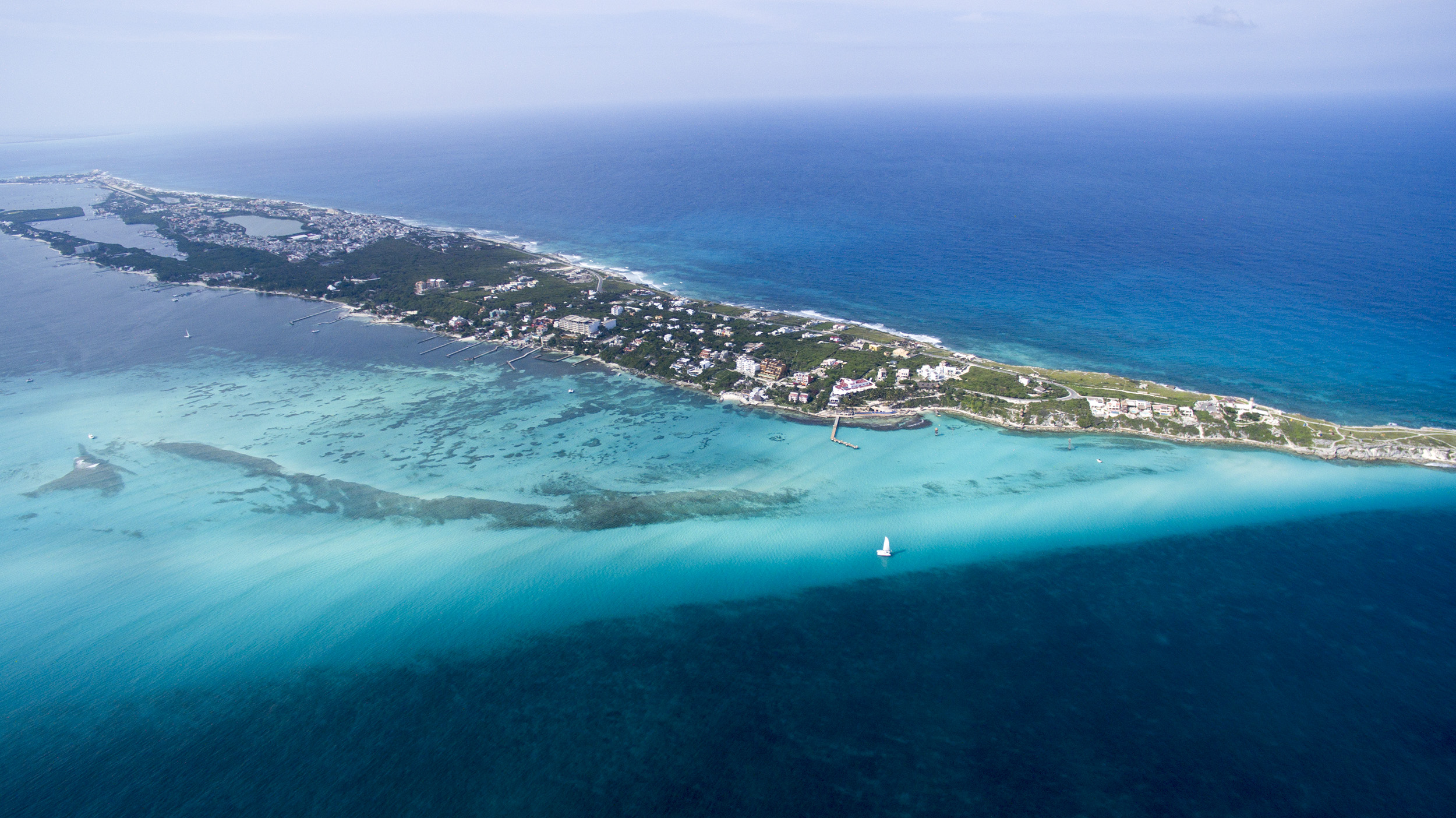 A paradisiac island on the Mexican Caribbean Sea right in front of Cancun with approximately 4.3 miles long and 2,130 ft. wide. The beaches of Isla Mujeres are considered to be some of best beaches in the world and this is one of the many reasons a lot of people have this wonderful island in the state Quintana Roo on their bucket list.

Isla Mujeres is an island where most of the people move around in golf carts. There are several venues that do golf cart rental in Isla Mujeres for 1 hour, 2 hours and even the entire day. The prices range from $300 pesos and up to $1000 pesos approximately, depending on which season you are visiting. We recommend you negotiate the price. Another option is to move by taxi which is not expensive. Walking is the best option if you are downtown or by the beach.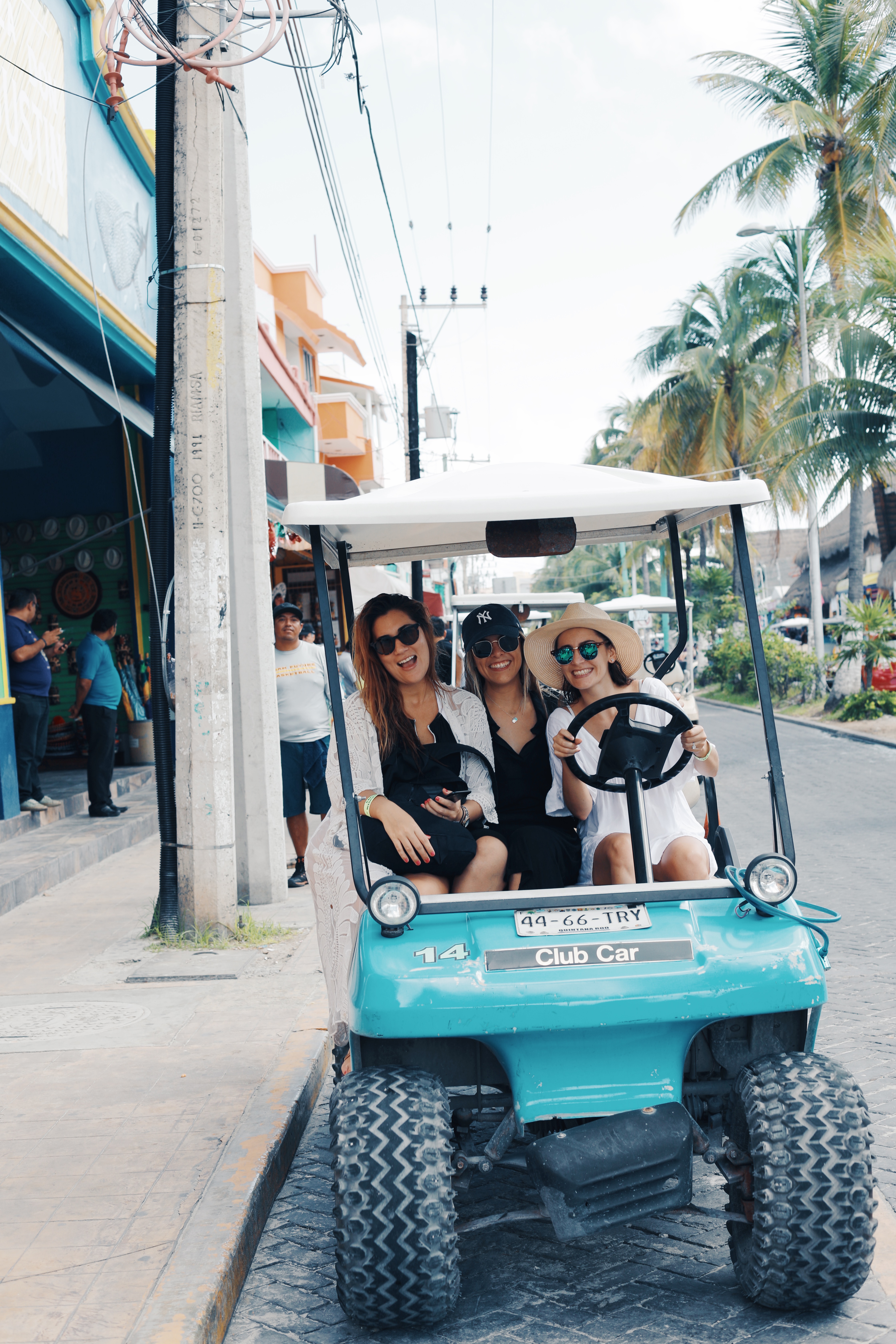 Isla Mujeres has 2 main spots that will make you fall in love with the island. The north area and the south point.
Isla Mujeres South Point (Punta Sur)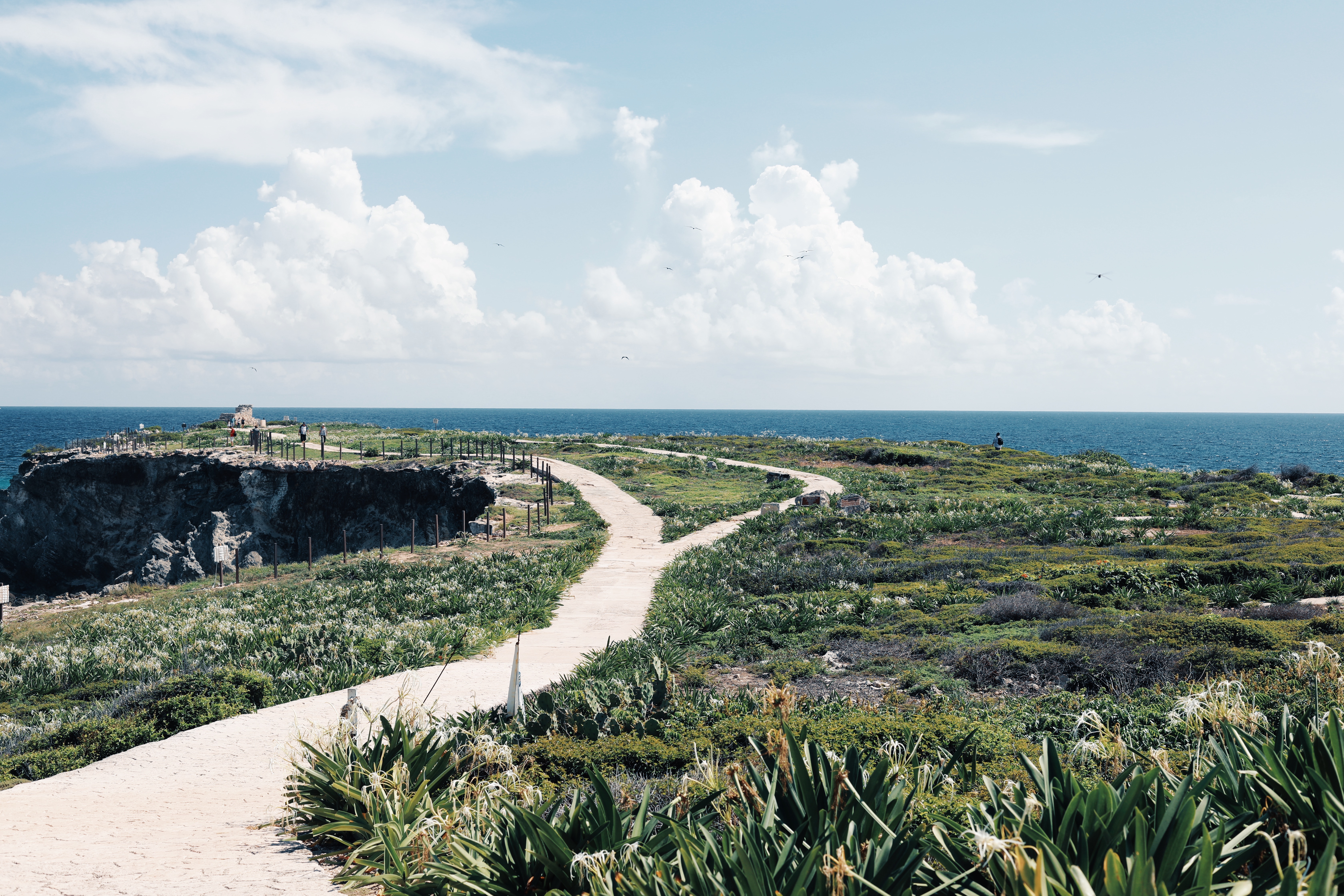 On the south part of the island you can see panoramic views that will become great pictures. Punta Sur on Isla Mujeres which is the Spanish name of this area, has some old Mayan ruins and sculptures in honor of the goddess Ixchel that some rumours say was the goddess of fertility.
Did you know that the south part of Isla Mujeres, is the first area in all Mexico to receive the sunrise? If you go here early, you can participate in this fun fact and enjoy a morning with the first sunrise for the entire country.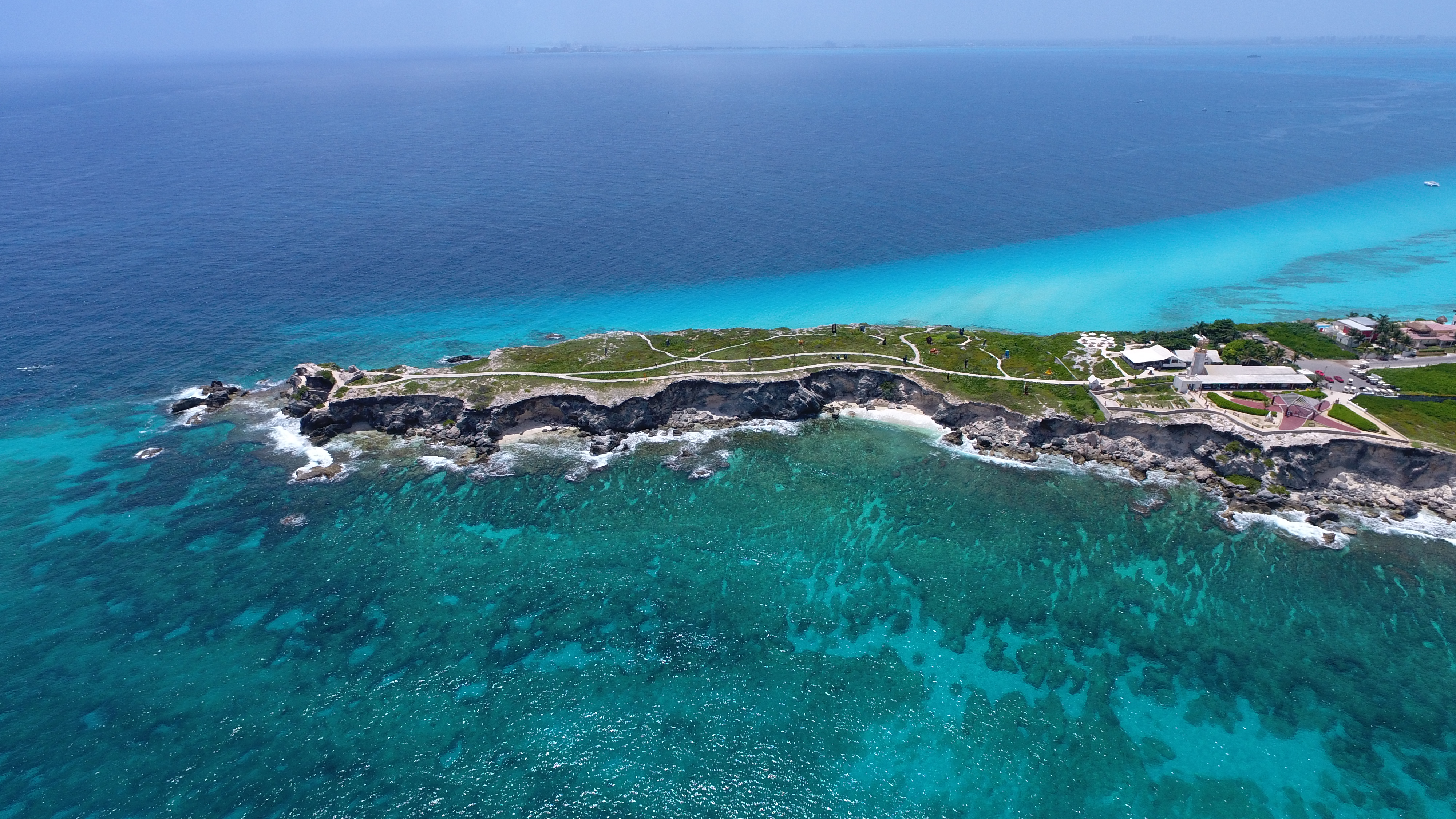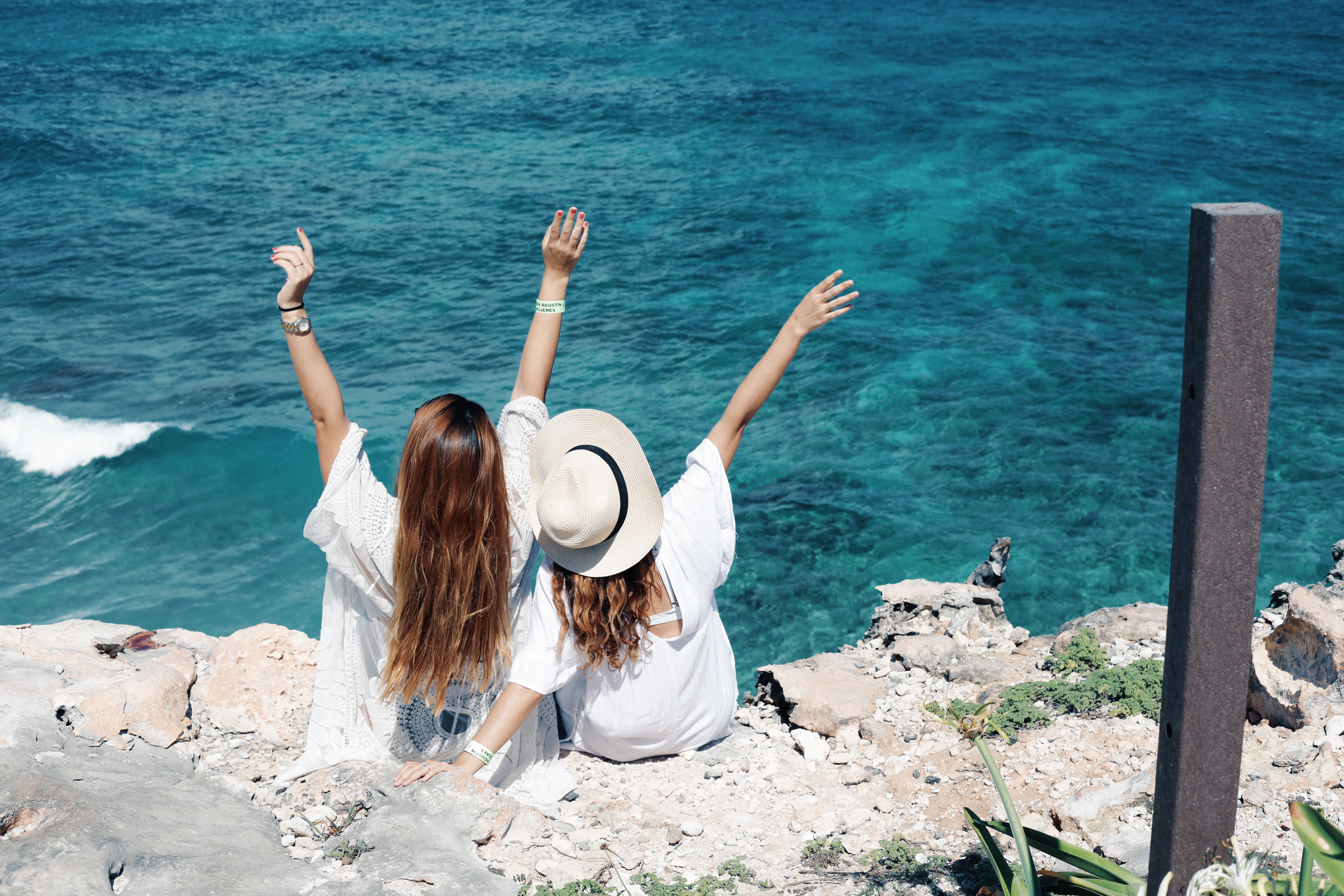 Punta Sur by catamaran is something you should consider as it is a quite spot, not so overcrowded and a perfect spot for a refreshing swim. You can see how the water looks on a sunny day beside Garrafon Park on Punta Sur: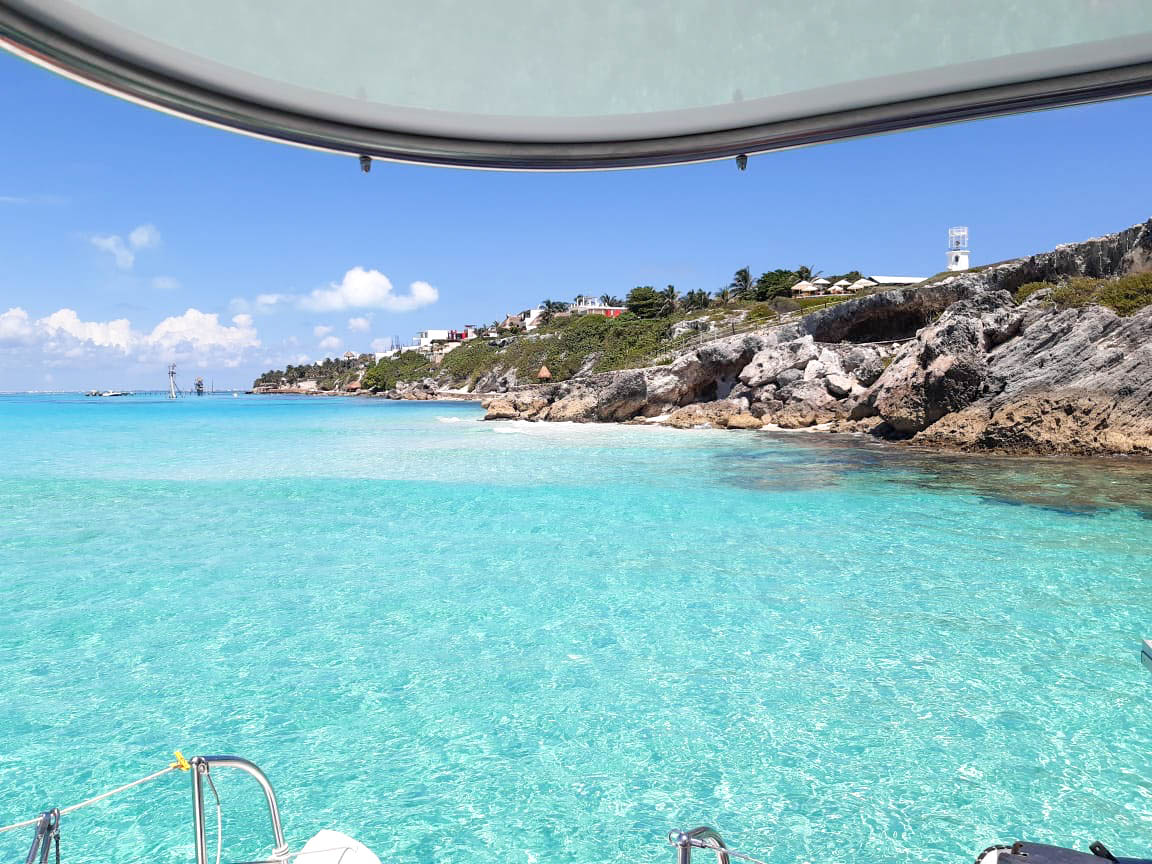 If you want to explore this amazing area of Isla Mujeres you can book a small, medium or large catamaran that fits your group perfectly with Cancun Sailing.

Isla Mujeres North Point (Punta Norte)
North beach on Isla Mujeres which is known as Playa Norte in spanish is definitely one of the best beaches in all Mexico and considered as a top beach in the world.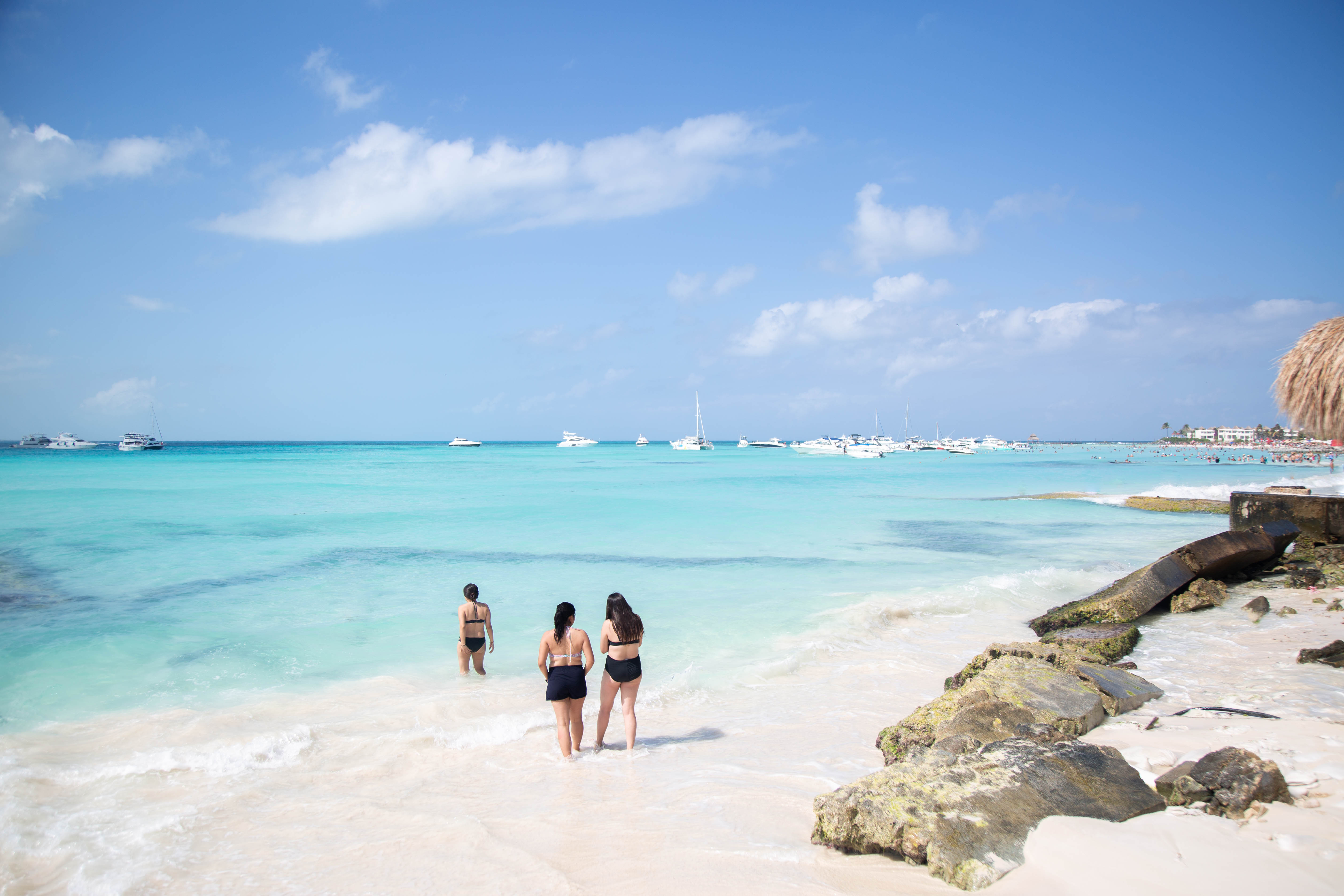 Once you arrive to downtown Isla Mujeres you can walk to the north side of the island on the white and soft sand which is right next to the downtown center and contemplate the beauty of this beach. If you want, keep on walking until you arrive at the point next to the hotel Mia Reef which is nice and calm area. The downtown area and Playa Norte can be enjoyed side by side.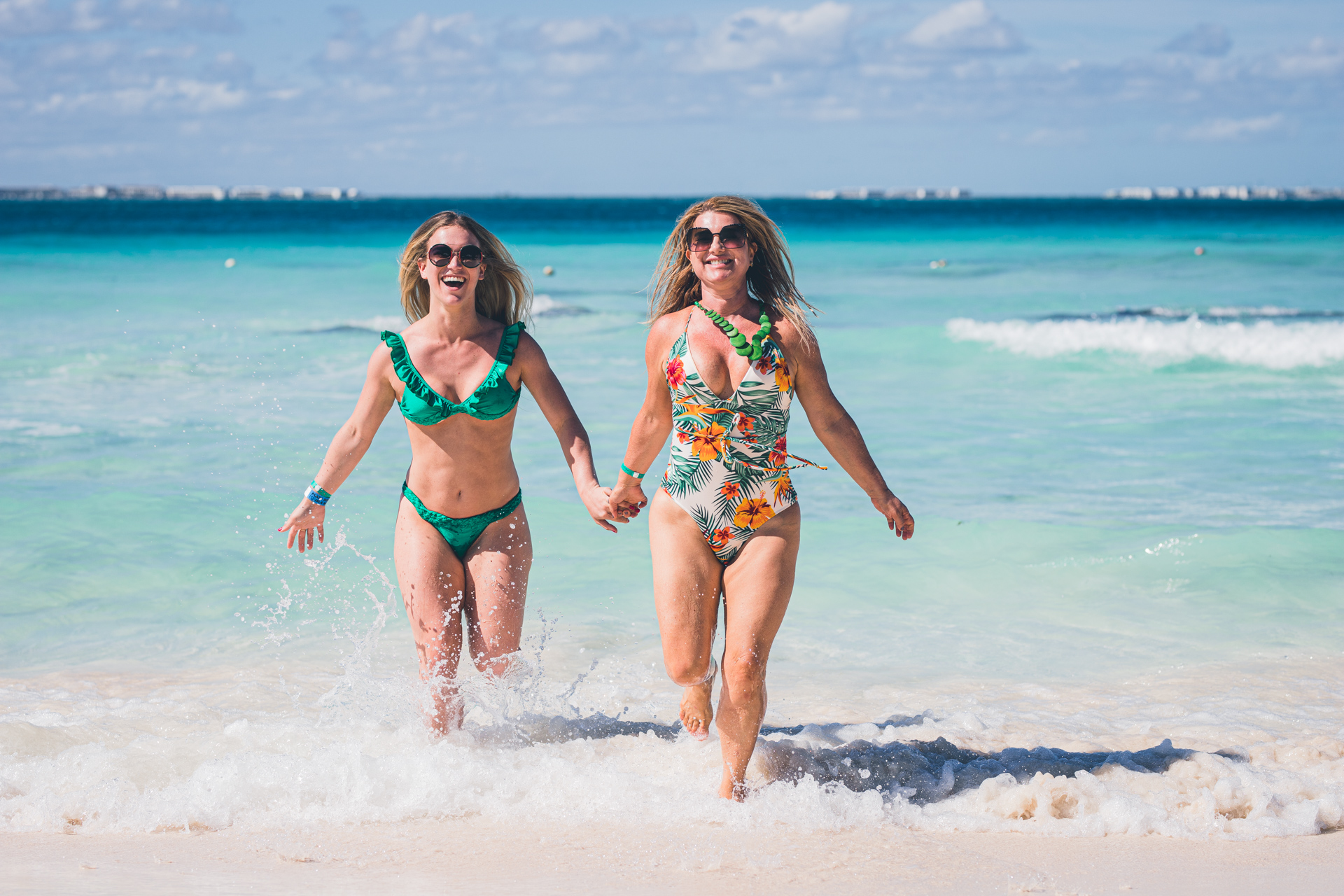 Photo by: @LuizMeurer

The north part has different hotels and bars right next to the beach. You can walk and choose one of these restaurants for a nice lunch next to the sea or maybe for a couple of drinks while relaxing on some hammocks.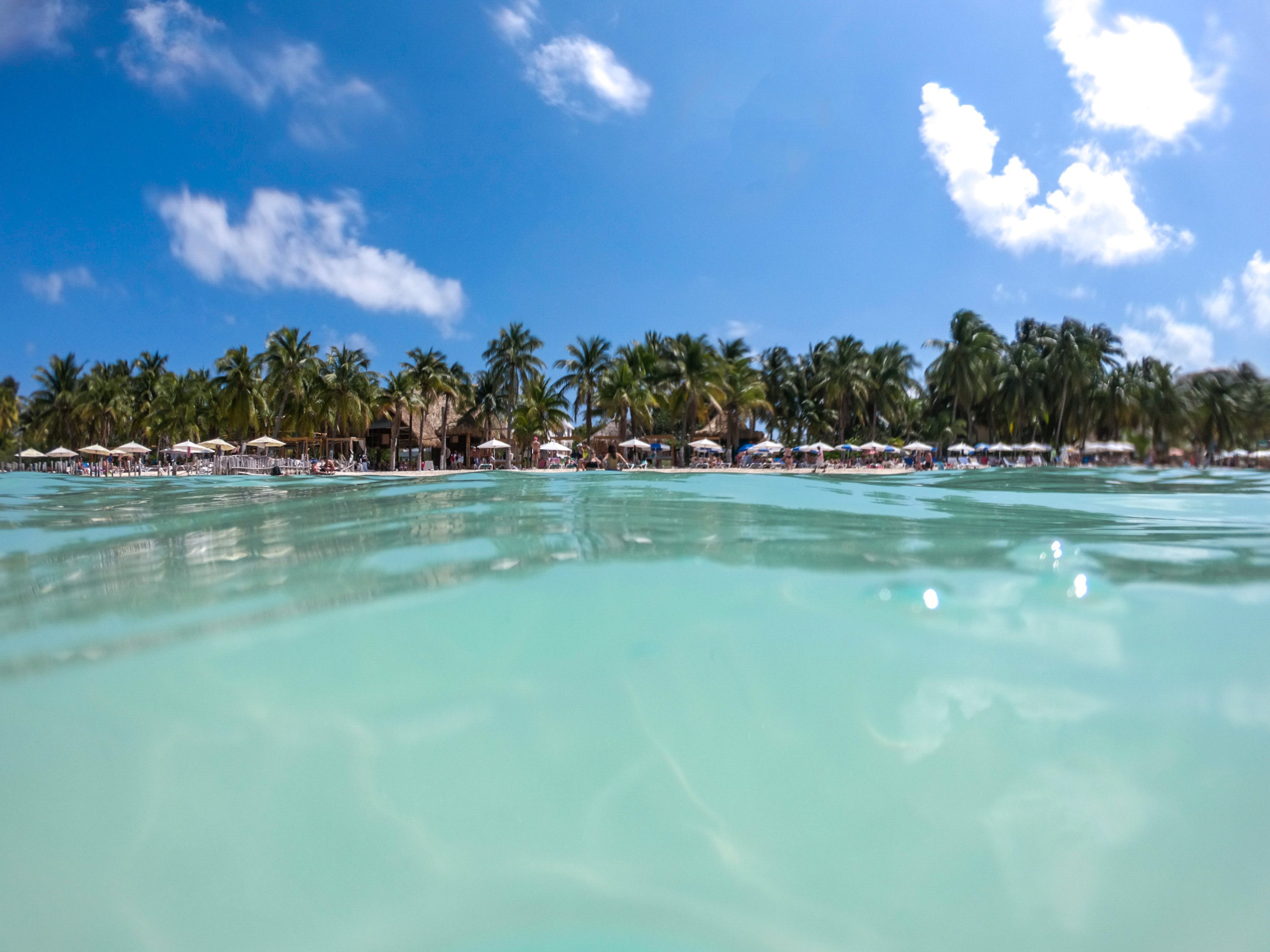 How to go to Isla Mujeres from Cancun?
How to get to Isla Mujeres? You can take a ferry from Puerto Juarez in Cancun which will be a little cheaper than the options of The Embarcadero, Tortugas or Caracol beach located on the Hotel Zone in Cancun. Compare the prices at ultramarferry.com
Once you arrive, you will see the north beach is walking distance from the main dock. Once on the sand, find a cool spot to lay down on some towels or if you prefer book a couple of sunbeds.
You can get to Playa Norte in one of the 24 catamaran fleet of cancun sailing on a private catamaran tour. On the boat you can have some food like guacamole or ceviche, for example and then have lunch at this spectacular spot with your group. Drinks are plentiful next to the boat as you float in the calm water.
The turquoise and calm waters of the sea of Isla Mujeres is perfect for everybody as it isn´t very deep. The ocean here is like a swimming pool without any waves.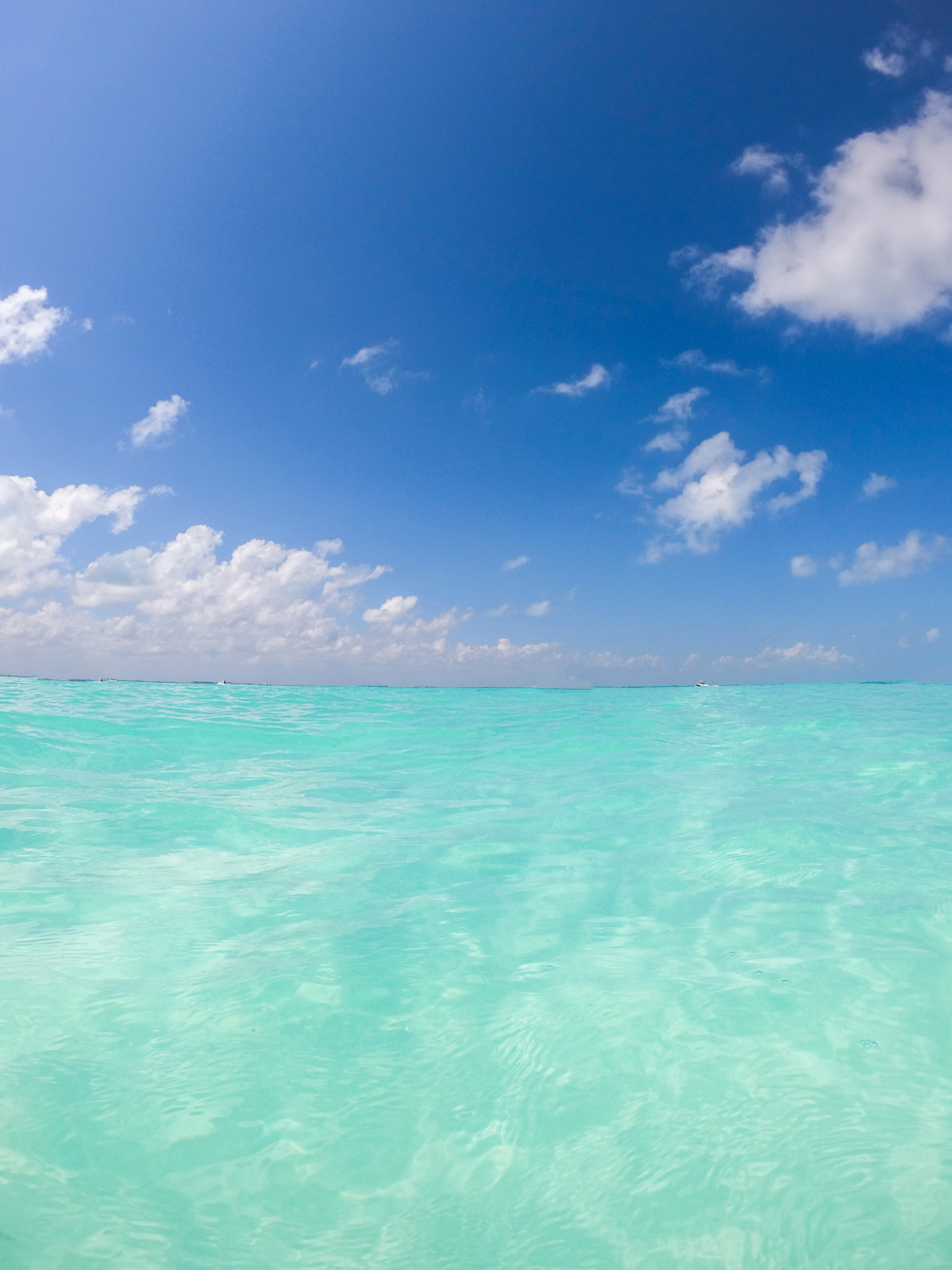 If you are visiting Cancun, Puerto Morelos, Playa del Carmen or The Riviera Maya; Isla Mujeres is definitely an excellent option to visit on a day tour.