There is no more magical and unforgettable moment than a wedding.
If you think getting married by the sea is the most romantic and fun experience, why don't you try to get married on the sea?
The dress, the rings, the cake, the family, the friends, and a commitment full of romance. The wedding has to be a memorable and beautiful moment in the couple's life. Sounds like a dream, but is an actual problem to find the most romantic places to get married around the world. Many couples struggle with this since the beginning of the wedding planning moment.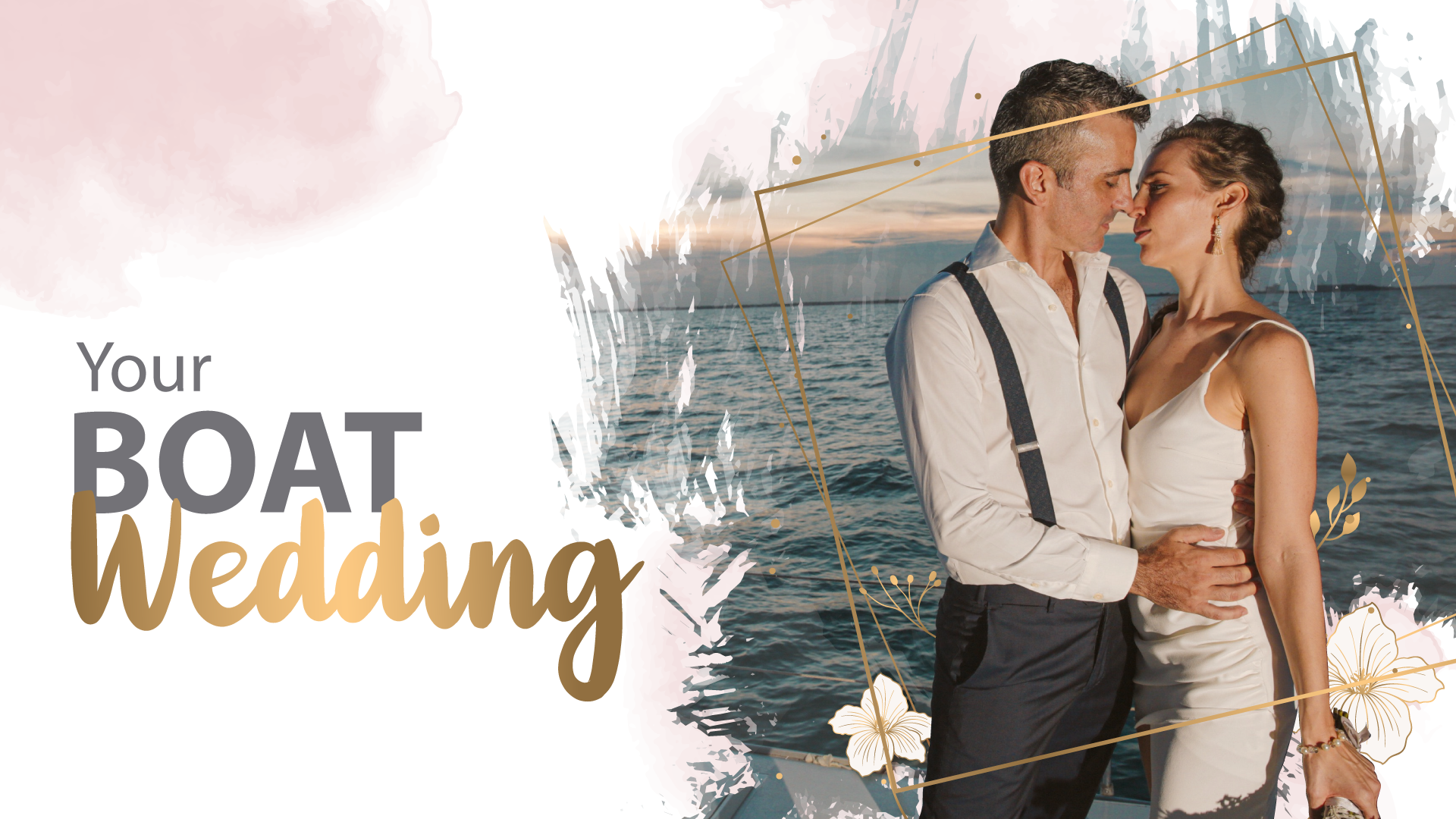 Some prefer traditional church weddings, others even go for a medieval castle experience in the middle of the European countryside, but if you are one of that special group that likes to be always by the sea, we have good news for you.
Mexico may be an awesome place to start that happy ever after chapter of your life, but choosing a wedding destination in Mexico may also be a little tricky since this is a huge country full of pretty much everything any foreigner always wanted.
And we are not lying about this. In Mexico you can celebrate a symbolic wedding gathering, a Jewish wedding, a Catholic or Christian wedding ceremony, LGBT+ friendly weddings, or even a Mayan-style wedding ceremony (if you are looking to get in touch with nature and spirituality in the Riviera Maya, for example).
So, where is the most romantic place to get married in Mexico?
The answer is the Caribbean. This is the best destination wedding in Mexico.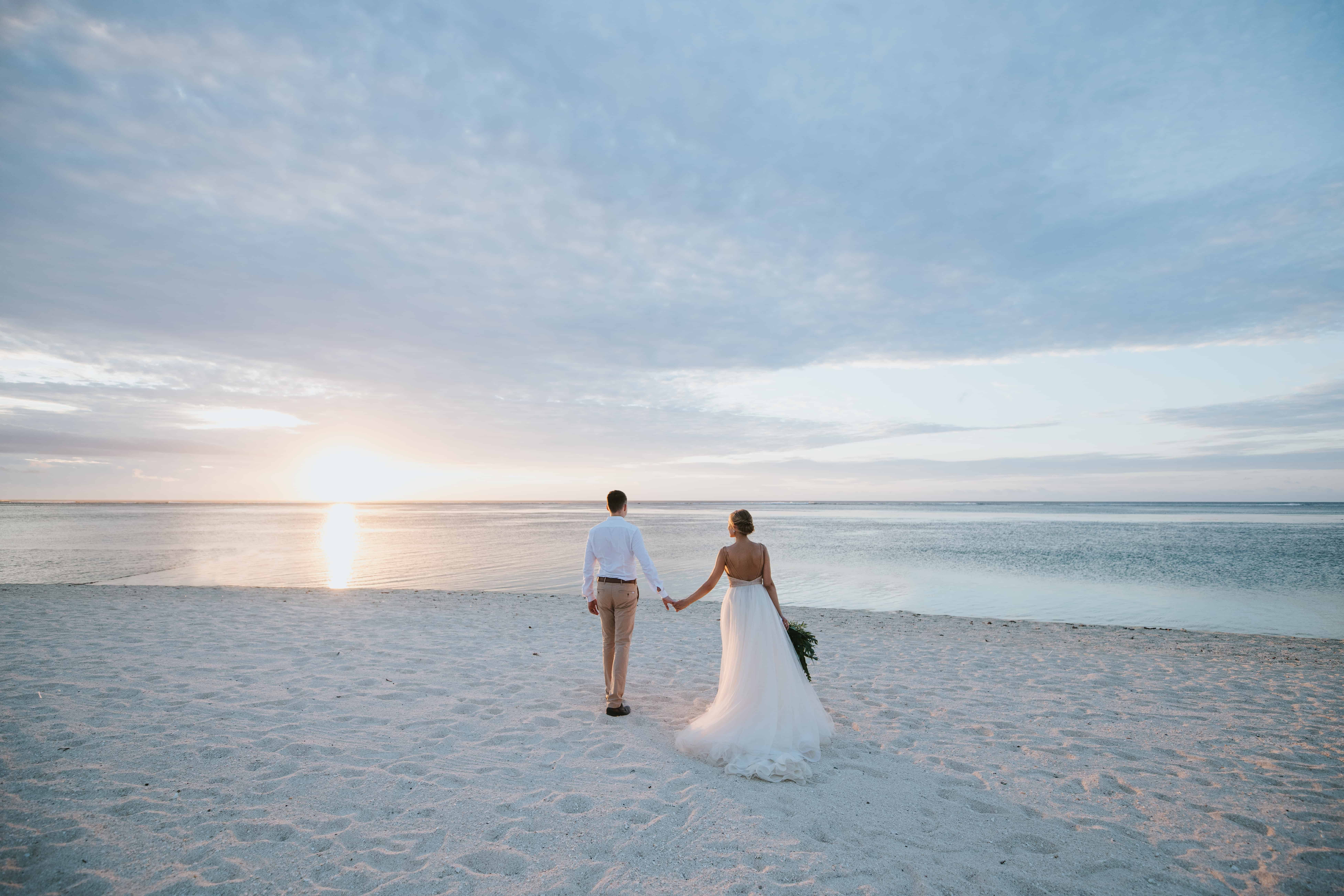 Of course, you can celebrate all kinds of weddings in the Caribbean, but there is nothing more romantic than a beach wedding or rather a wedding by the sea. The typical Caribbean sunsets, white sand, blue sea, and beach atmosphere create an incredible mood to celebrate the most important day of your life as a couple.
But the Mexican Caribbean encompasses many beautiful places, all with wonderful beaches and spectacular views.
What is the cheapest destination wedding in the Caribbean?
Planning a wedding has many variations. Not only the number of guests could vary the price, but also the type of food, the venue, and the service.
There are many venues with different options to choose from, but the best way to get married is to go through a wedding planning agency, especially if you are coming from another country. These professionals can help you find the right prices that fit your wallet so you can celebrate your special day without much worry.
Best places in the Mexican Caribbean to get married
These are not only the most popular, each one has its own charm in its own different way.
TULUM
Tulum is well known for its relaxed chic and bohemian atmosphere. It is considered Pueblo Magico (Magical Town) by the Mexican government as it is home to the famous Mayan ruins of Tulum and is surrounded by a dense and beautiful jungle that gives it a small-town feeling. However, that atmosphere of privacy and exclusivity has made it a privileged and somewhat expensive destination. In Tulum, you won't find massive hotel buildings. You will find boutique hotels, eco-hotels, luxury hostels, and beach clubs are hidden in the jungle.
It is an ideal place for young couples or those with alternative tastes as it presents a lot of openness for spiritual, informal, and casual ceremonies.
Given the size and price of the accommodations in Tulum, weddings tend to be small and private, almost always on the seashore and in bohemian settings. You can also find symbolic ceremonies that take place inside the famous cenotes of the area. A unique experience no more than 15 minutes from Tulum.
ISLA MUJERES
Isla Mujeres is a small but busy destination located 20 minutes by ferry from Cancun. Like Tulum, this island is considered Pueblo Magico (Magic Town) by the Mexican Government for its cultural contribution.
Several symbolic reasons motivate many couples to get married on Isla Mujeres. The first reason is, due to its geographical location, this island is the first place in all of Mexico to receive the first rays of sunlight each day. This is considered of great importance for visitors seeking spiritual experiences.
Isla Mujeres, as a wedding destination, has amazing views to offer, but since it is a small island visited by many people, you might encounter a lot of people while looking at your celebration photos. That's why we suggest you find a wedding planner to help you determine wedding costs and find how to get married on Isla Mujeres in a private and beautiful setting.
CANCUN
We will tell you what is the most popular wedding destination and why is Cancun.
Ok, the Mexican Caribbean is much more than Cancun, but this city, located in the very corner of Mexico, has an indescribable charm.
Cancun is a world-famous city and the most famous beach destination for the North American public and unlike other smaller destinations such as Tulum or Isla Mujeres, this fantastic city has absolutely everything you need to plan your perfect wedding.
How much does a Cancun wedding cost?
Talking about wedding prices in Cancun is uncertain. Due to the number of options, it is best to rely on an experienced wedding planner to help you find the Cancun Weddings, Packages, and Venues that best suit your tastes and lifestyle. We can give you the idea that a simple beach wedding in Cancun, something very simple, could cost from 7000 USD and the sky is the limit.
But, if you want to save some money on your wedding, take into account the following:
Season: Cancun is a tourist area that fills up with tourists during high seasons. Set your wedding date during the low season after the summer and before the winter vacations, as these are the rainiest months. Hopefully, it won't rain during your wedding, but you will save a few bucks.
Venue: Many Cancun wedding venues are ranging from large resorts to small but luxurious boutique hotels with wedding plans that will help you have a great time without having to worry about anything.
Guests: Many of the weddings in Cancun are held in hotel,s and some have special discounts when you reach a certain number of guests. Let your friends and family know ahead of time to take advantage of these group discounts and save some money.
Where can I get married in Cancun?
All types of weddings are celebrated in this city and, because of its wide variety of options, the venues where you can host a wedding are endless You can start thinking about a classic beachside resort wedding or, if the jungle is your element, you could have your wedding in the middle of nature trails. But if you think getting married by the sea is the most romantic and fun experience, why not try to get married OVER the sea?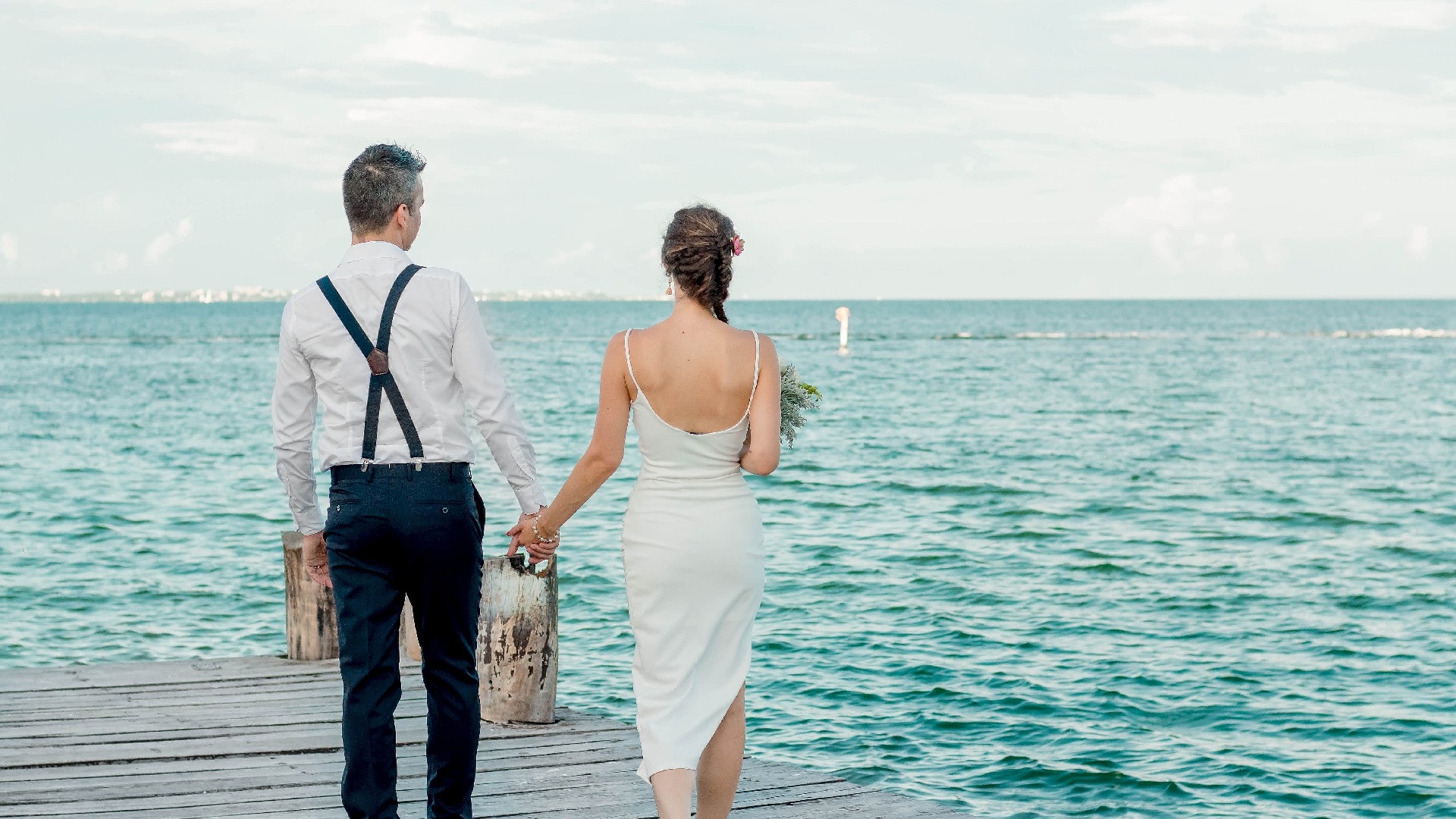 Cancun beach weddings are trendy, but weddings aboard a luxury boat have that air of sophistication that every couple desires on their special day.
Yacht and catamaran weddings are a thing right now and it may sound like a crazy idea, but it's a unique experience that many young couples are trying as a more creative, private, and fun alternative.
Can you have a wedding on a yacht or catamaran?
Of course. There is nothing more romantic than starting your happy ever after in the middle of the Caribbean, surrounded by your family and friends, feeling the wind blowing your hair.
You may be having several doubts, such as can I get married on a yacht, how do you plan a yacht wedding, or how much does it cost to get married on a yacht. We know it is a different concept but keep reading because we Will tell you everything about having a wedding on the sea.
First of all, you need a boat.
To get a luxurious boat to celebrate a wedding is not as simple as grabbing your phone, open your map app, and type "Get married on a boat near me". It also takes a little effort to find the perfect setting that suits your taste. But it is not difficult neither.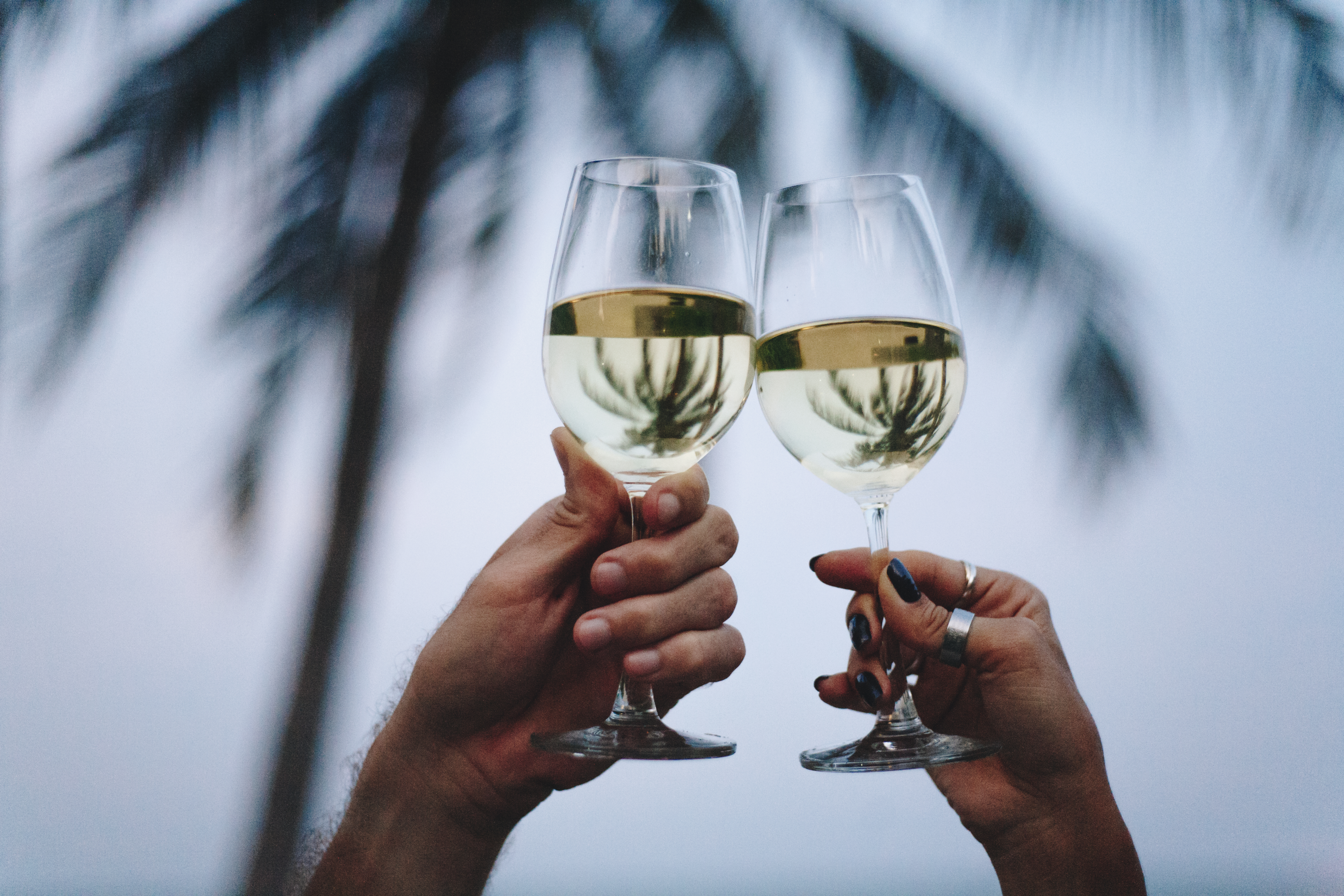 At Cancun Sailing, we help you celebrate your wedding in the Caribbean Sea so you can live a totally different experience with your loved ones.
Get aboard a luxurious catamaran that includes:
Banquet: Select your favorite food from our star menu and enjoy the best flavors during your celebration.
Decoration: We customize your venue with a magical atmosphere for you to take amazing pictures of that special day.
Ceremony: Choose between a traditional ceremony, a symbolic one, or an ancient Mayan style experience.
In addition, your wedding will have a bilingual guide, on board national open bar, a fun snorkeling experience, and snacks to continue enjoying with your guests. You can add extras such as:
Beach Club: clean and exclusive facilities in Isla Mujeres.
Upgrade to Privilege Open Bar: includes Appleton Rum, Tequila José Cuervo Tradicional, Absolut Vodka, Black Label whisky, XX Lager beer, White and red wine, soda (Coca Cola, mineral water), juice (orange, pineapple, tomato, and cranberry) and bottled water.
Roundtrip transportation: from any resort in Cancun and Riviera Maya. We can also pick you up from an Airbnb.
Look no further. Our planning team will help you choose the best options and will have your boat ready to create romantic, exclusive, and very special moments.
Visit our wedding planning site (https://www.cancunsailing.com/en/private-tour/events/celebrations/weddings ) and send us a message to create a personalized plan for you.