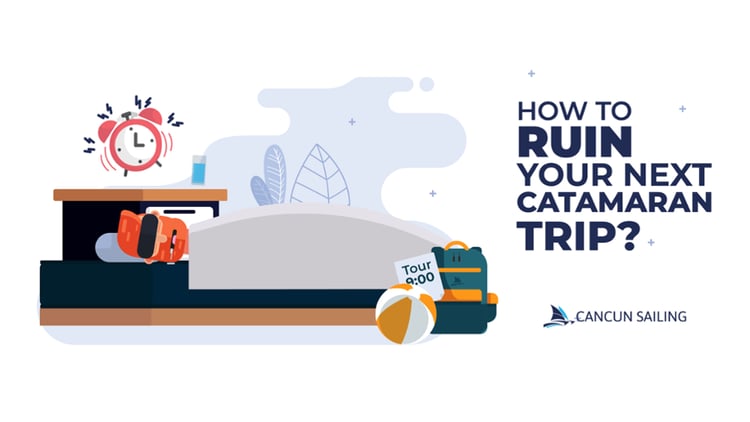 A Caribbean catamaran tour may look great in your head, but very few dare to tell you the truth. Don't worry! In this blog post, we will tell you everything that can go wrong during your Caribbean catamaran tour and how to prevent it.
Per month we transport thousands of people on our boats, different countries, ages, cultures, and more, as you can imagine we receive opinions about why in some cases it wasn't entirely satisfactory, so we have made a list of the most common Isla Mujeres tour problems that can ruin your experience and turn it into a real catastrophe, but we also tell you how to prevent them (so you can be prepared).
Let's divide the possible issues in a tour to Isla Mujeres into three phases, Pre-Sail, Sailing, and After tour.
Before the tour
think twice where is more secure to book a tour in Cancun.

The best way to ruin your catamaran experience from the very first step is to book your tour with an unauthorized seller or on the street/beach. These people often mislead buyers, selling tours at incredibly low prices that turn out to be something completely different in the end or simply end up being a scam.
How do I know if I am being scammed when buying a tour?
Find out about the company you are going to buy from. Check their website, social networks and read what people say about them.
Don't book at the street or beach. Many times we receive cases from customers that buy their tours with an "agent" on the beach and it turns out to be a scam. When they return to that person to ask for their money back, they never find him again.
Book on authorized sites. Don't give your money to strangers who could rip you off. A tour that is too cheap could end up being too expensive.
Research the company's sales channels. Many tour operators sell through different platforms such as their website, social media, and hotel offices. Contact certified agents through digital or trusted channels.
Book catamaran tours at www.cancunsailing.com. Our online executives will be happy to assist you in our omnichannel (Website chat, WhatsApp, Facebook, Instagram, Google my business).
Book without anticipation.
Planning your trip at the last minute is a lot of fun! No, seriously. If you like to waste your money, shopping last minute is the way to go. Last-minute bookings are possible to make, but they also present many risks and drawbacks. For instance, if you book a last-minute catamaran, we probably won't be able to include food service since you have to request it ahead of time.

How to book a catamaran with Cancun Sailing?
Arrive late at the meeting point.
Tardiness is a must-have quality in the art of screwing things up. Nothing annoys other people (and tour operators) more than a person who is late everywhere. Being late to the meeting point will not only cause you to miss your transportation but also jeopardize your catamaran experience as you will either have to get to the marina on your own or reschedule your tour (which means -$ ).

How to take transportation to the marina with Cancun Sailing?
Plan ahead. Make a list of everything you need to bring to the tour. Include in your list your ID and your reservation confirmation. Pack the night before to avoid arriving late at the transportation meeting point. By booking with us, you'll receive an email reminder a day before your tour with all the details. For iPhone users, you will be able to add it to Apple Wallet or iCal.
Do you find it hard to get up early? If you are not an early bird, but you want to live a catamaran experience, our Isla Mujeres Full Experience tour has 5 different departure times: 8:30, 9:00, 11:30, 12:00, and 14:30 (so you can enjoy a crazy night in the Cancun's hotel zone).
Arrive at the check-in counter without your ID.
Denying service to passengers without identification is our passion. Our guests deserve to receive the service they paid for and we will not give it away to a stranger with no ID. We will always ask for identification to confirm the names of the guests and avoid mistakes and the presence of stowaways on board.

How to check in for my catamaran tour with Cancun Sailing?
Have your ID and reservation confirmation handy. In the previous point, we suggested you make a list of what you will need. Follow that advice and also make sure you have your ID and booking confirmation handy to make the check-in process much easier.
Save time by paying online. Paperwork and payments are the most tedious part of a vacation, that's why we give you the option to make all your payments online before embarking on your catamaran experience. Settle your reservation and pay your dock and reef taxes from the link on the invoice sent to you by our sales executives.
Identifying yourself is important. Cancun Sailing is part of THE CODE network that fights against Commercial Sexual Exploitation of Children and Adolescents in Travel and Tourism. By identifying our customers during check-in we also help identify cases of sexual exploitation and save victims of this industry that harms people and tourist destinations.
If you've made it this far, it means you've made it to the catamaran and are ready to get on board. Now let's see how to turn your catamaran trip into a disaster!
What can spoil my tour to Isla Mujeres?
Wear expensive shoes.
You cannot board the catamaran with shoes for the following reasons: To avoid damaging the deck and the trampolines (nets) of the boat, to avoid slipping, and to prevent the shoes from falling into the sea. That is why we will ask you to take them off and leave them in a container. So if you plan to wear those $2,000 Nike Dior tennis shoes, think twice or even 3 times.

What kind of shoes should I wear on a catamaran tour?
Wear appropriate footwear: All shoes will be stored in a container (yes, one on top of the other, we don't discriminate them), so we recommend wearing flip-flops, sandals, or shoes that can get wet, crush under other shoes or even fill with sand.
Leave your personal belongings unattended during the tour.
If you no longer like your smartphone and want to get rid of it, the solution is to take pictures and selfies on the edge of the ship. If you succeed, it will fall into the water and you'll be ready to buy a new phone. On a serious note, another risk is that your stuff could disappear if you leave it exposed. Remember that on board the shared tours not only our crew but also up to 80 other guests.

To avoid having my belongings stolen during a tour:
Don't put your phone at risk. We know that the Caribbean Sea we sail in is simply beautiful and photo-worthy, but taking your phone out and bringing it close to the gunwale to get a picture is a risky move. To avoid a mishap, you can make use of the professional photo service offered onboard.
Keep your belongings in order: Keep your things together and organized inside your bag or backpack and make sure you keep everything you carry with you very well. Do not carry expensive or fragile objects that can be lost or broken, as the company is not responsible for them. As tourists, we usually relax security and although it is a safe place and our staff is honest, remember that if you are traveling on a shared tour, don't neglect your belongings.
Enter the water without knowing how to swim... and without a life jacket?
It may sound brave but it is actually very dangerous. At Cancun Sailing our visitors must wear a life jacket to participate in snorkeling. Remember that snorkeling, although a calm activity, is done in the open sea and many underestimate the strength of the currents and the effort involved in swimming.

How to avoid accidents at sea?
Follow the crew's instructions: Reef snorkeling requires you to swim for approximately 25 minutes and be able to dive into the water and climb up the stern ladder, so we recommend you avoid this activity if:

You don't know how to swim.
You do not want to do it.
You suffer from cardiovascular problems.
You are not fit enough to swim for 30 minutes straight.

Splash around near the catamaran: If you want to cool off in the water, but don't feel like swimming in the reef, you have the option of swimming near the catamaran's ladder for a few minutes and coming back on board as soon as you get tired.
Drink to excess, heck yeah!
We love to party too, but what we don't think is a good idea (and neither do the other guests) is having to deal with people who couldn't control themselves with alcohol. Excessive drinking is dangerous in any environment, especially if you are traveling aboard a boat with other people. Those who abuse alcohol consumption could damage boats or cause accidents that could even be fatal.

How can you enjoy yourself without drinking so much alcohol?
Enjoy your surroundings: You don't need to drink so much to have an amazing day sailing the Caribbean Sea. Be responsible and take care of others and yourself.
Drink and enjoy as you like: Yes you can! During a private catamaran charter, you can enjoy your experience with your closest friends in a private and safer environment. You may add drinks and food of your choice to your private catamaran reservation.
Get mad because the weather ruined your experience.
If you travel to Cancun, especially in the last months of the year (September, October, and November), it is very likely to rain during your visit. Rain is so unpredictable that it can last as little as 5 minutes even if the weather app says it will rain all day.

What to do if it is raining on the day of my tour?
Follow our instructions (since we are following the Harbourmaster's instructions). The Harbourmaster of Quintana Roo has the last word. They are the ones in charge of deciding whether or not the boats can set sail.
Cancellation Policy: Check our Terms and Conditions section for detailed policies on changes and cancellations on your reservation.
Complain about the food.
Some of our catamaran tours include buffet meals in a beach club (and to be honest, is on this topic where most of our customer's complaints come from). What we can say about this is that "food is like art, it varies depending on the diner's taste".

What to do if I don't like the food on the tour?
Eating on Isla Mujeres: If buffet food is not your favorite, our Isla Mujeres Full Experience tour includes food onboard the catamaran and free time on the island. You can enjoy lunch on board and then eat on Isla Mujeres or go bar crawling (which is also a great idea, we recommend reserving at IXI Beach).
---
Since you have read this post up to this point, we suggest you book our
Isla Mujeres Full Experience
tour that has everything. This activity includes:
5 different departure times from two different marinas (so you can choose the one closest to your hotel).
Round trip ground transportation from your hotel or meeting point.
Dock and reef tax.
Catamaran sail from Cancun to Isla Mujeres.
Snorkel in the reef with new equipment.
Food on board.
Premium open bar.
1 hour of open bar at IXI Beach located in Playa Norte.
Free time in Isla Mujeres (2.5 hours approx).
City Tour in Isla Mujeres.
---
Cancun Sailing negative reviews!!!
Not only do we want you to know the worst things that could happen on a catamaran tour, but also the worst things that have happened during our tours. We have listed some complaints and negative opinions of Cancun Sailing that our users have had, as well as a transparent explanation so they don't happen to you.

"My phone was stolen on board💢".
Unfortunately, theft of belongings is a risk that can happen in any tourist activity, especially if you take the tour with other passengers. Minimize this risk by avoiding bringing valuables on the tour and keeping what you do carry. Most thefts or losses occur because passengers leave their bags open and their belongings scattered and unattended.
"Very little snorkeling time 😠".
Can you swim for 30 minutes without stopping? Really? The snorkel swim is in open ocean and the currents make it a challenging activity for some. The time for snorkel is planned so that it doesn't turn out to be an exhaustive activity and you can continue with the tour. If you want to continue enjoying the sea, you can use your free time in Isla Mujeres to visit the beach. During a private tour, in addition to your snorkeling time, you have the option to swim at Playa Norte, considered one of the most beautiful beaches in the world.
"I was left in Isla Mujeres 😡".
During our tours you have the option to visit Isla Mujeres for approximately 2 hours, this means that you are free to go wherever you wish within the time range. In general, all guests return responsibly to the dock at the assigned time, but sometimes there are one or two passengers who take too long to arrive and it is no longer possible to wait for them. We would rather miss two guests than disappoint the other 78.
If you wish to have more free time, our Isla Mujeres Full Experience tour offers you 2:30 hours of free time on Isla Mujeres, more than our other options.
"The ship was crowded" 🤬, "The music is very vulgar".
Sharing a boat with other guests has its good and bad sides. If you like to party, dance, and meet new people, then you will most likely enjoy our Plus Experience Tour. Another option is our Privilege Experience Tour, our most luxurious tour. On the other hand, if you want to create your very own experience, you can book a private catamaran where you can play the music of your choice.
"It was sold to me as a luxury experience, but it wasn't 🗯️".
As any tour operator, at Cancun Sailing we have different options for all profiles of our guests. We have more economical options (without transportation) and we have an all-inclusive tour as well as a VIP tour and private catamaran rental.
We recommend you consciously check what you are buying, as there are resellers or unauthorized tour operators that promise the client amenities and activities that are not included.
| | | |
| --- | --- | --- |
| "Awful, it was raining"🌧️ | 🐠"I couldn't see any fish" | "The water was too cold"❄️ |
Yes, it may seem unbelievable, but we actually receive these kinds of negative reviews from our visitors, and there is nothing we can do to fix them. We are good but we cannot be God, and these are indeed our day-to-day frustrations.
TELL US WHAT YOU THINK
We want to know what you liked and what you didn't like. This will help us to improve our services so that you get just what you are looking for. Our Guest Services department is always attentive to all the comments we receive and provides personalized attention to any questions you may have.

Remember that you have different tools available to communicate with us, for example:
Satisfaction survey: As soon as you finish the tour, a survey will be sent to your e-mail address.

Guest service:

You can send us your suggestions and complaints to the email help@cancunsailing.com
Information on the website: Visit our website for all the information about our tours, catamaran rentals from Cancun, and Isla Mujeres in general.
Contact our agents: They will gladly assist you through our social networks and website.
We hope we didn't scare you but it is always better to be honest with our clients. And remember, all these circumstances can be avoided if you take them into account. For any other doubt, we have a Help Center with the most frequent questions to help you make the best decision.
We are available on Facebook, Instagram, WhatsApp, by phone 998 283 1812, and through our executives online on our Website.