A private catamaran tour sailing on the sea of Cancun and Isla Mujeres it is definitely worth it. First of all you get to choose the itinerary you prefer. For example if you want to go for snorkeling in 2 different spots we can put in the itinerary, if you want to arrive to a restaurant of your preference you can do it, if you just want to sail for 4 hours and enjoy the sunset is another option you could do.
You can check the best places to snorkel in Isla Mujeres here and check here the best restaurants to have a lunch in Isla Mujeres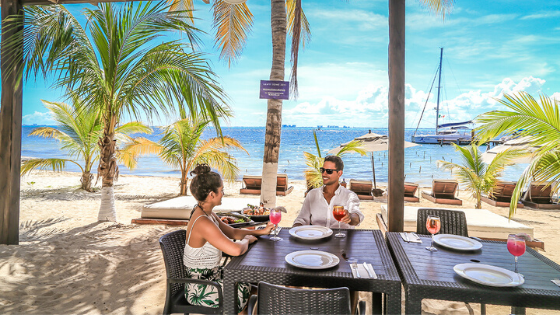 Basically, you are free to create the itinerary of your preference sailing in Cancun and Isla Mujeres.
A lot of times people think it may be expensive to book a private catamaran and may opt for a shared tour however Cancun Sailing has 24 catamarans for private rentals so even if you are a small group you can book one of our small catamarans like Seawind catamaran with capacity for up to 9 people or maybe Nal Gone catamaran with capacity for 13 people onboard, it won't be too expensive and you will have a wonderful and personalized experience.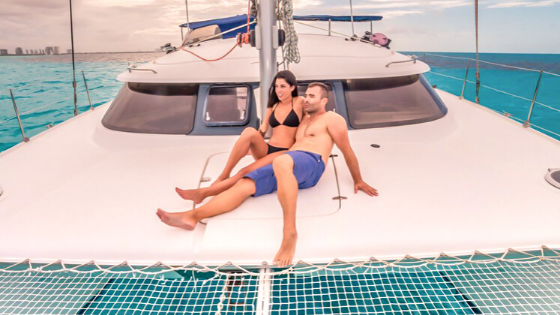 One of the many advantages of booking a private charter in Cancun is that you can sail for 2 hours, 3 hours, 4 hours, 7 hours or if you prefer you can add more hours.
Examples of sailing itineraries

2/3 Hours

After 17:30

4 Hours
7 Hours
More than 7 Hours

A quick sailing experience to enjoy the Cancun sunset.

Do some snorkeling, visit Playa Norte beach of Isla Mujeres and enjoy sailing.

Snorkel, visit Isla Mujeres, swimming in Playa Norte and have some lunch on board.

Start the day with some fresh fruit on board, sail around Isla Mujeres, do snorkeling, stop at a nice beach club with restaurant and live a magical day as you want.
Sailing on a private catamaran in Cancun gives you privacy and comfort since you have all the facilities of the boat just for your group and the crew members will take good care of you with a personalized service.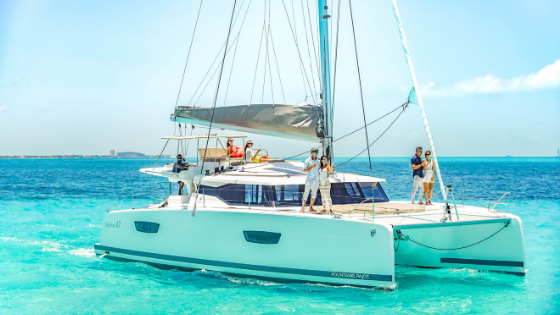 On a private catamaran you can order delicious food on board like a traditional Mexican guacamole or a fish fresh ceviche , which is an excellent option to do because you save time on stopping on a restaurant and have the chance to spend more time sailing.
You can stop at "Playa Norte" beach in Isla Mujeres and have lunch with your group in this paradisiac place.
If you want to see our variety of food in detail just download here our menu and check the delicious food you can have on board.